Sponsored by Unilever.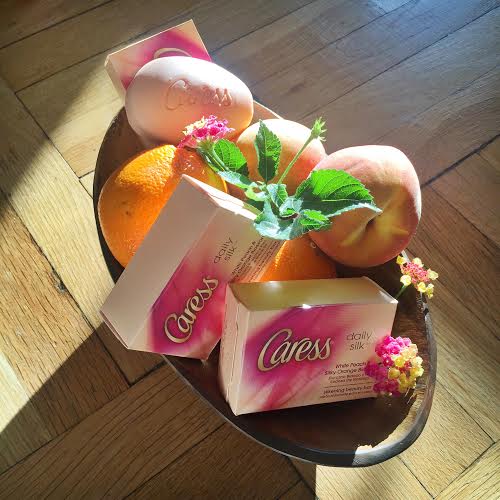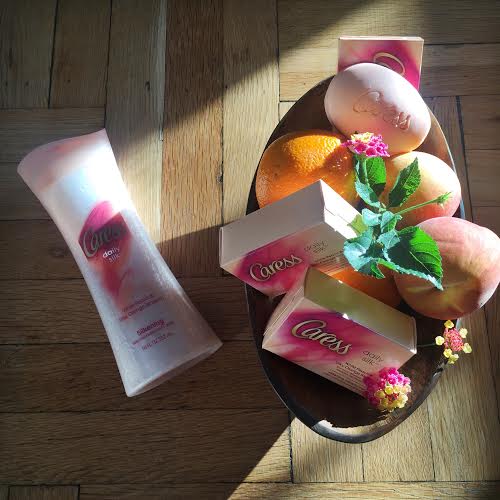 Evoking the delicate floral sweetness of white peaches and fragrant citrus notes of orange blossoms, Caress® Daily Silk™ body wash and beauty bar provide a sensory escape from the daily grind, infusing the most mundane of routines with indulgent fragrances that are at once soothing and invigorating.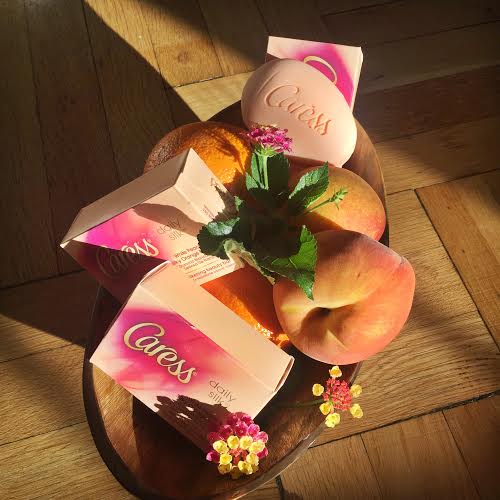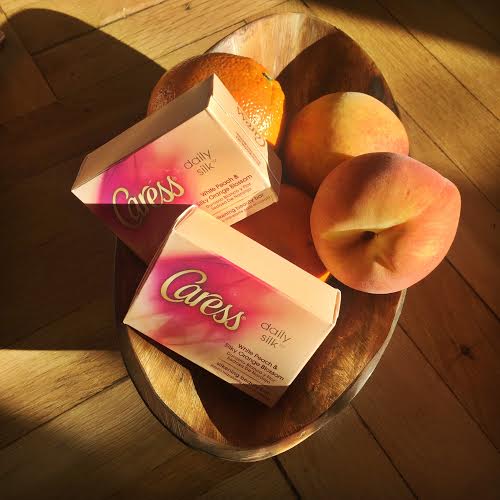 Asked to review Caress® Daily Silk™ products, I  was happy to shake up my toilette by swapping out my usual bath time favorites, for Caress®' White Peach & Silky Orange Blossom body wash. I also used the beauty bar in place of my go-to facial cleanser.
Lightly viscous and containing ingredients like hydrolyzed silk, the body wash has a silken satiny finish. My skin felt supple and moisturized after using, but not oily–even tough Caress®' Daily Silk™ body wash contains essential oils like soybean oil, sunflower seed oil and orange flower oil. Like most good cleansers, a little bit goes a long way–I used just a dollop of Caress®' Daily Silk™ silkening  body wash for a rich soapy lather (that was decadent enough for several shower sessions) right before bed and still smelled faintly of flowers the next morning!
Unlike the body wash, Caress® Daily Silk ™ beauty bar does not contain oils and washes away cleanly, without stripping my face. Note that the beauty bar is highly fragrant and is not for those with a sensitivity to smells or heavy perfumes (the fragrance in the body wash is a bit subtler than that of the beauty bar).  This is probably not the kind of soap your boyfriend will reach for, unless he likes trailing a bouquet of delicious floral and fruity notes in his wake. Caress®' Daily Silk body wash and beauty bar is strictly for those who wouldn't mind having their pampering routine feel like an intoxicating exotic escape.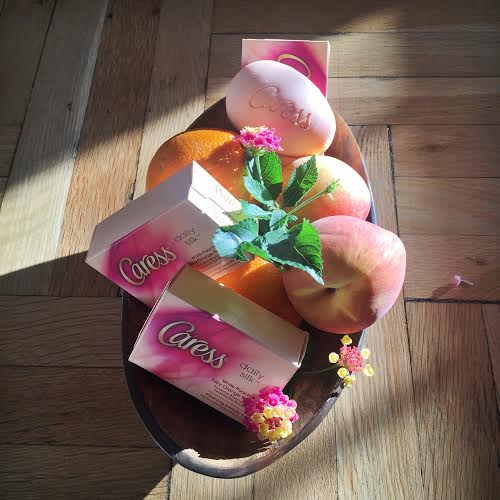 Go ahead, shake things up. Luxuriate in a silken shower with Caress®' Daily Silk body wash or beauty bar for a refreshing start to your day (or for an afternoon pick-me-up, or as the foundation for a fun night). I'm now a believer, and will be adding Caress® Daily Silk body wash and beauty bar to my bath time routine. Treat yourself to the alluring fragrance of Caress® Daily Silk™ every day and feel truly irresistible. Tell 'em I sent ya!
Click here for more StyleChile product reviews. Thanks for supporting the brands that support StyleChile. Xo
Photos and article by Naki. Click here for more  Keep up with Naki on Instagram, Pinterest, Facebook and Twitter.