This evening, Vogue's annual Costume Institute Gala, aka the Met Ball or Met Gala, which takes place at New York City's Metropolitan Museum of Art, celebrated the theme "China: Through the Looking Glass"–the name of this year's Costume Institute exhibition. The fundraiser, with a $25,000 per ticket price tag, benefits the Met Museum's Costume Institute, and boasts a star studded guest list of A-listers. This year's Met Gala was hosted by fashion lovers Jennifer Lawrence, Gong Li, Marissa Mayer, Wendi Murdoch, and Anna Wintour.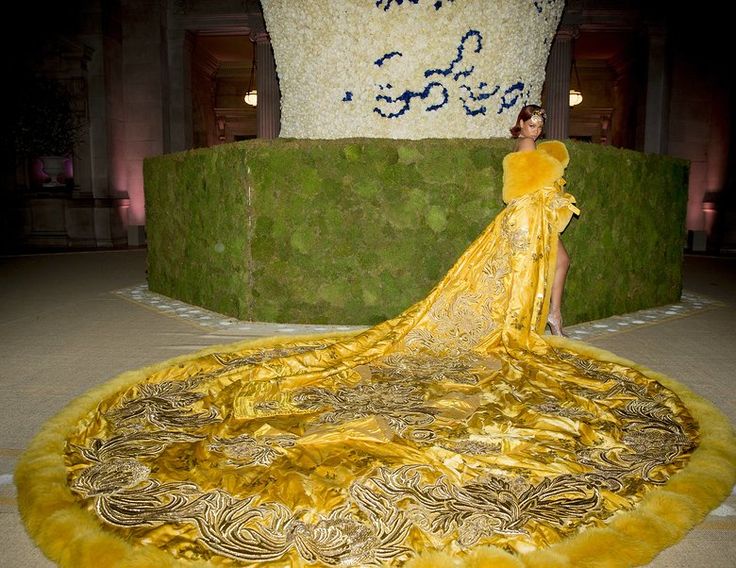 Given the theme, I anticipated a lot of red and gold–auspicious colors in Chinese culture, where red symbolizes good fortune and joy, and yellow/gold (the most beautiful color, according to the Chinese): generates both yin and yang and represents good luck. Red and gold are often paired together. Anna Wintour, Vogue's legendary Editor-in-Chief, always sartorially astute, arrived in a red and gold frock. And, Rihanna was a stunner in a yellow cloak by Guo Pei. Check out who wore what in the list below, and view pics in the slideshow.
China: Through the Looking Glass is inspired by China, obvi, and includes: over 100 pieces from Chanel, Dior, Yves Saint Laurent, et. al.; and other objets d' art from ancient China. Museum members can preview the exhibit on May 5th and May 6th.
Rihanna wore Guo Pei
Jennifer Lopez wore Versace
Beyonce wore Givenchy
Madonna wore Moschino
Amal Clooney wore Maison Margiela
Kim Kardashian wore Cavalli
Jessica Chastain wore Givenchy
Sarah Jessica Parker wore a Philip Treacy hat
Lady Gaga wore Alexander Wang
Katie Holmes wore Zac Posen
Usher wore Calvin
KleinReese Witherspoon wore Jason Wu
Keri Russell wore Altuzarra
Article by Naki.