I had grand plans to do nothing a few weekends ago—nothing except hosting friends visiting for their Wharton reunion, catching up on work and getting a couple of workouts in. And then I remembered that the "Patrick Kelly: Runway of Love" exhibit is showing at the Philadelphia Museum of Art; that the Franklin Flea had kicked off its summer season; and so on and so forth . . .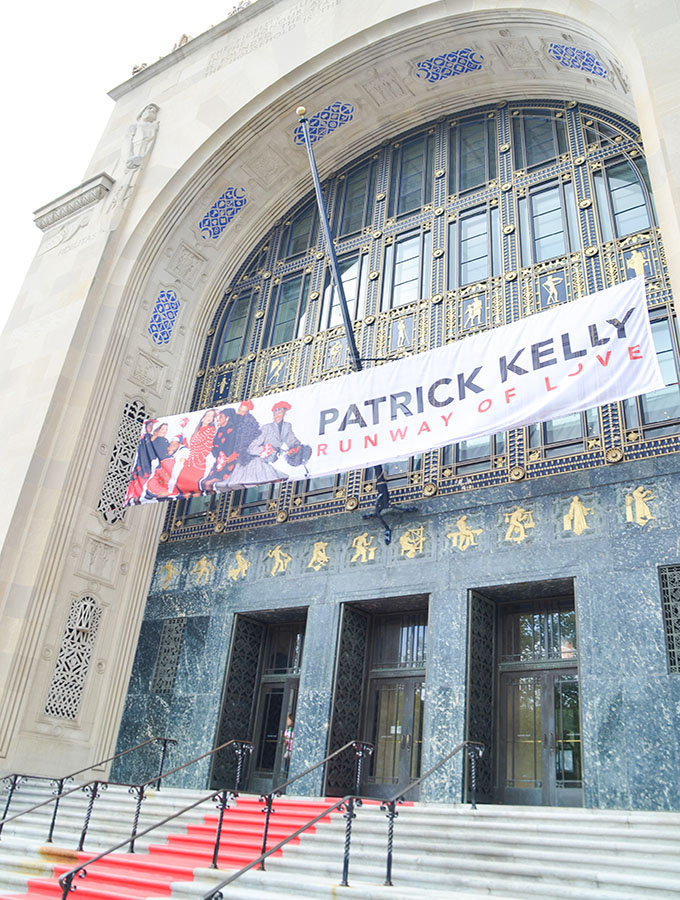 In the end, I did all of the above and then some, including seeing the Kelly exhibit—twice. After missing the press preview, and watching my calendar fill up with summer activities and travel, I was geeked for an impromptu trip to the museum—my first ever to the Perelman Annex of the renowned PMA.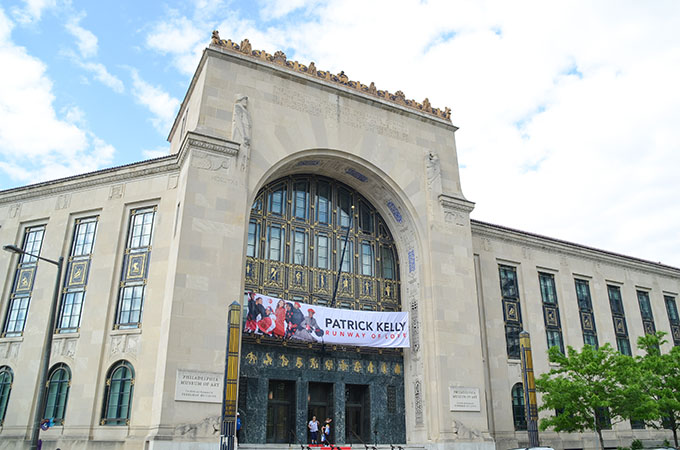 I could go on at length about the Art Deco jewel-of-a-structure that houses the Patrick Kelly exhibit, described as "the most elaborately sculpted facade of any twentieth-century building in the city of Philadelphia", but that's not the point of this post. Although, in many respects, the opulence of the Perelman Annex is a fitting situs for Kelly's embellished and ornamented designs.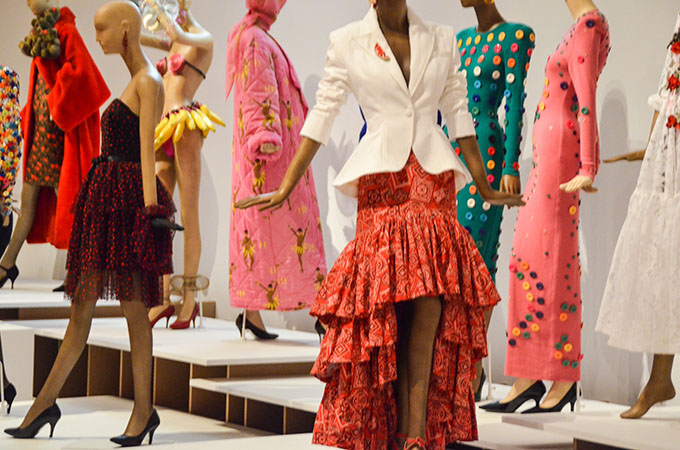 I knew that Patrick Kelly was an African American trailblazer from deep down in Mississippi, with an all-American success story that unfolded in New York City with a denouement in Paris, France—a veritable incubator of African American creative talent through the ages. You may already know, but I think it bears repeating, that after spending two years selling his designs on the streets of Paris, Patrick Kelly became the first American, and first black person, to become a member of France's prestigious Chambre Syndicale de Prêt-à-Porter (the governing body of France's ready to wear industry), ultimately receiving significant financial backing from American fashion syndicate, Warnaco.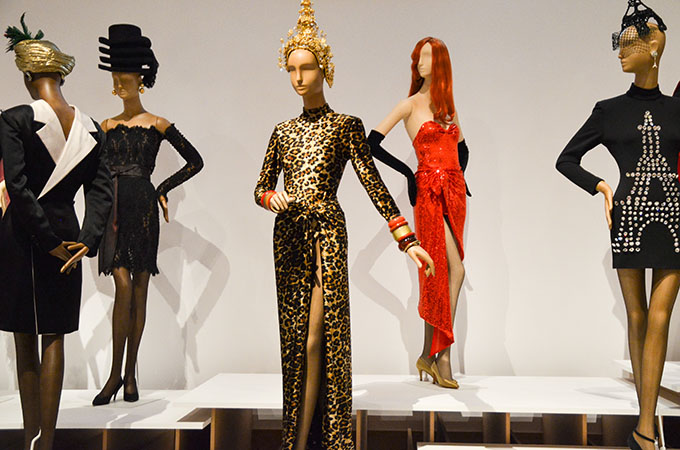 Patrick Kelly's clothing channels the excess of the eighties (volume, brilliant colors, and heavy embellishment—including colorful buttons, little black baby dolls and teddy bears). But even while Kelly's designs exhibit the extravagance of their time, they also have a simplicity of form (baby doll dresses, one-seam coats and narrow dresses—each in unfussy textiles like jersey and denim) which are belied by the many flora and fauna festooned to almost every piece in the collection.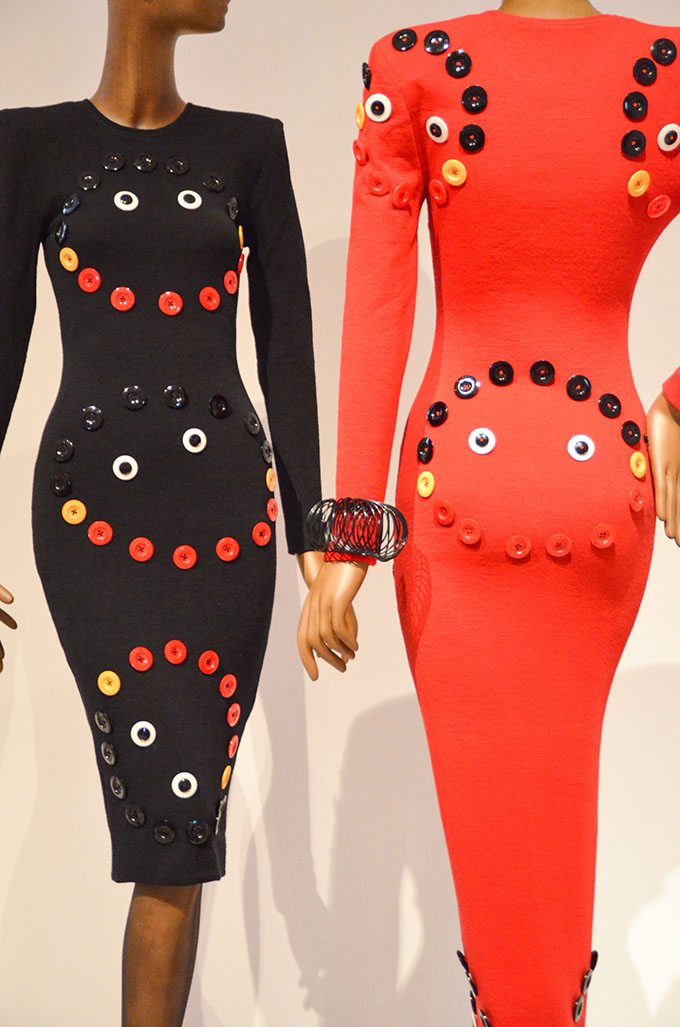 Kelly did not have formal design training, but he knew fashion and he knew design history—I think that his innate knowledge of fashion, combined with a lack of formal  training, empowered him to break the rules . . . to be so bold as to paint outside the lines during the creative process. And aren't we lucky for it?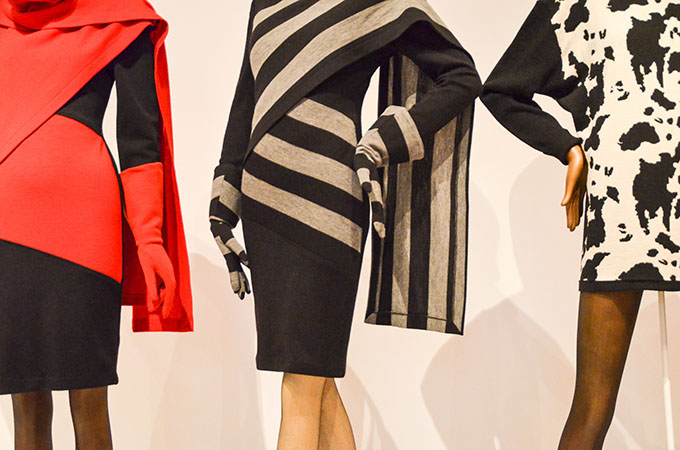 A dress by legendary Madame Grès—who, according to Vogue so it must be true "created the most beautifully intricate masterworks the haute monde has ever seen"—holds pride of place as a central element of the Patrick Kelly exhibit. Kelly greatly admired Madame Grès and his admiration is evident in the classicism underpinning his most extravagant works.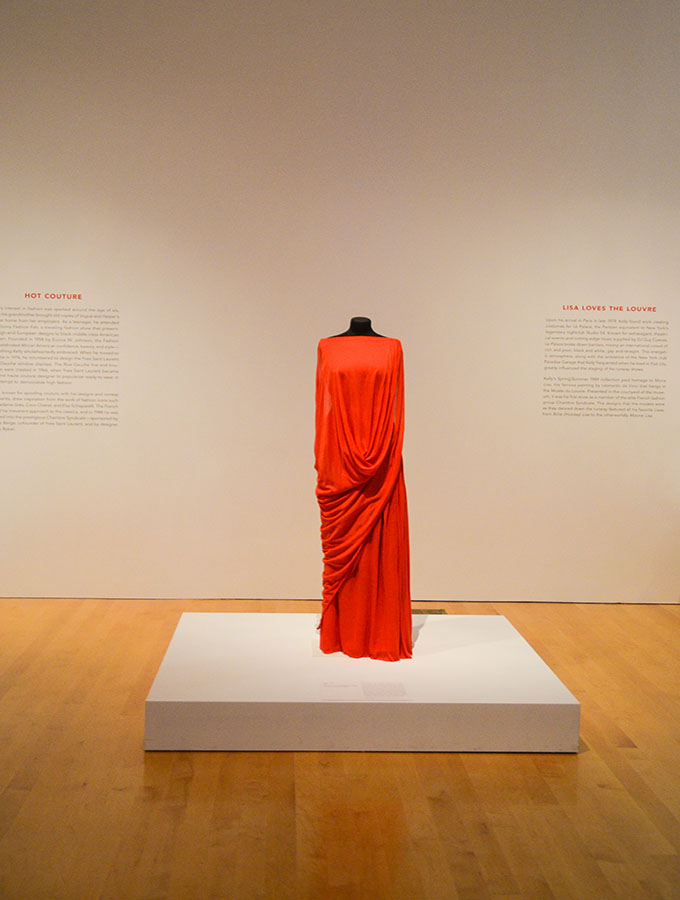 In addition to mastering Grès' drapery and pleating, Kelly tried to improve upon the designs of Cristóbal Balenciaga (or Issey Miyake, depending on whom you ask) by creating a one-seam coat to rival its predecessors—utilizing an origami design on a single piece of fabric. Kelly first sold his version of the Balenciaga/Miyake one-seam/cocoon coat on the streets of Paris.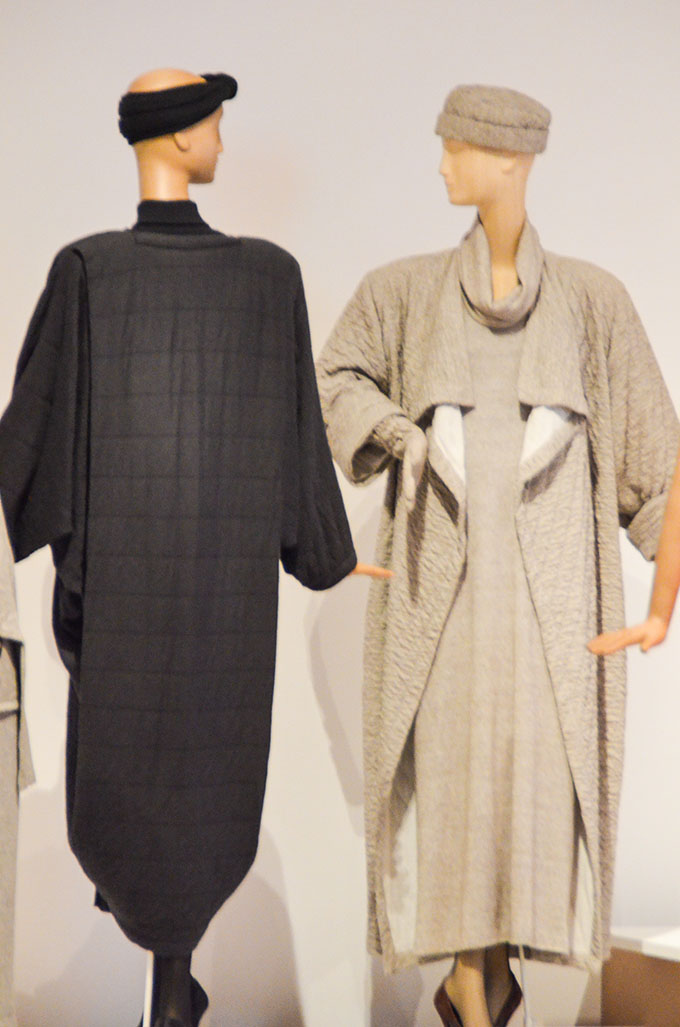 Beyond mimicking, and ultimately mastering, the masters, Kelly was an innovator—creating a convertible mini-dress (one dress, two ways) that can be converted further into a swimsuit.*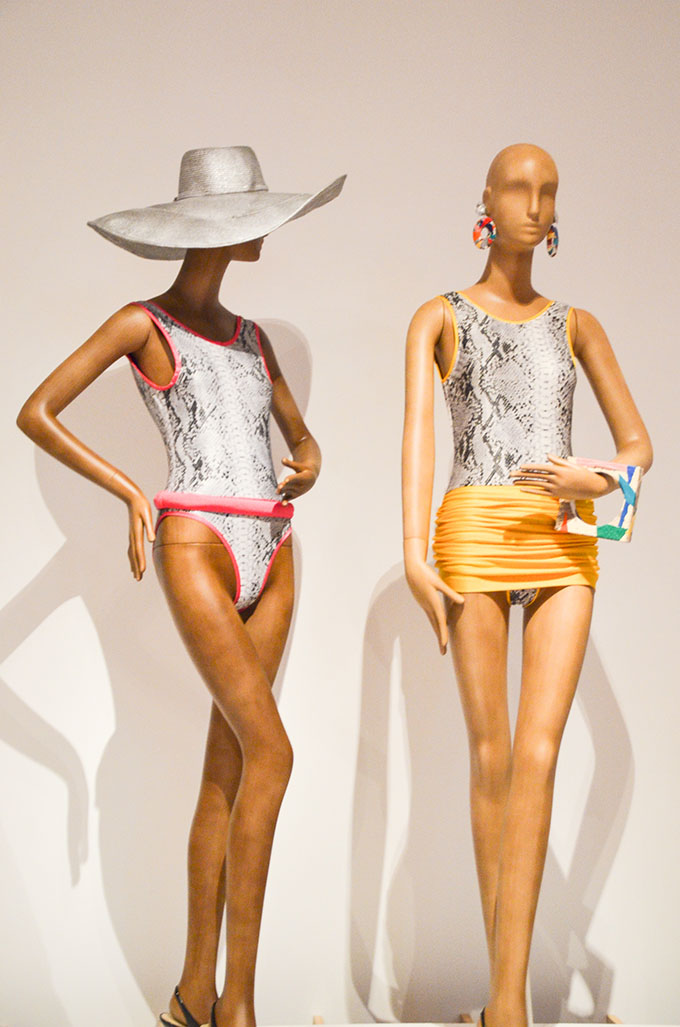 Kelly was also an art historian and cultural critic—creating an extensive collection that was inspired by the Mona Lisa (S/S 1989), and amassing a collection of golliwogs and other black memorabilia that were incorporated into his designs and branding. Kelly was also nostalgic—often referencing ideals from his childhood (pinwheels, roses, hearts, sparkles and stars); a graduation that could have been; the countries he called home (the US and France (see F/W 1989-90)); and representations of the motherland (zebra, leopard and raffia).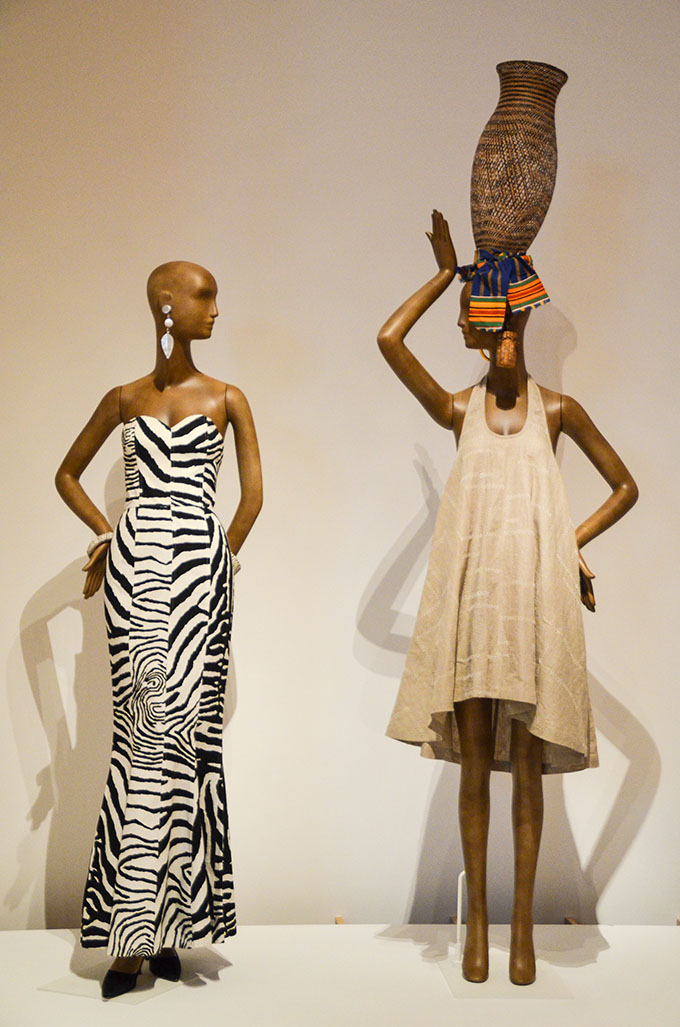 Patrick Kelly: Runway of Love is a multimedia experience, including great music, motion picture of Kelly's fashion shows, photos and, above all, an extensive collection of Patrick Kelly's work that highlights his evolution as an artist and the deep political significance of his life and legacy. I really wanted to see the companion exhibit: Gerlan Jeans Loves Patrick Kelly, which is running concurrently with the Patrick Kelly exhibit until November 30th, but you know what they say about the best laid plans . . .
Check out my photos of the exhibit in the gallery below.
* At the time that Kelly created the convertible dress, he was also working anonymously for luxury swimwear line Eres, creating coordinating separates for Eres' swimwear and cover-ups.