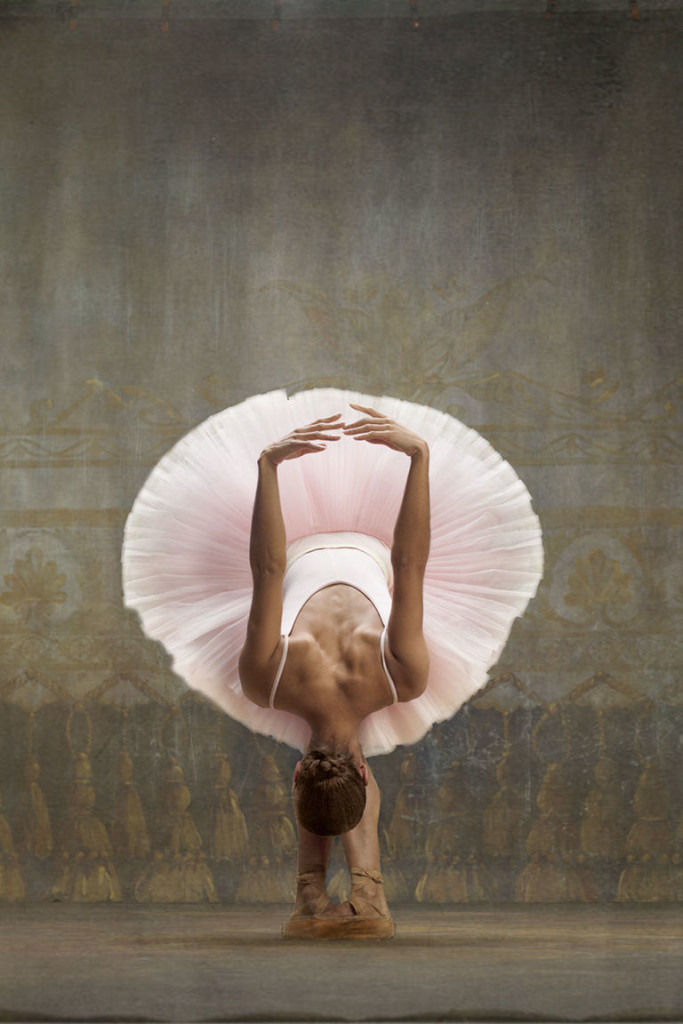 Recently, I shared  my excitement for the Museum of Modern Art's forthcoming Degas exhibit, entitled "Edgar Degas: A Strange New Beauty", the MoMa's first exhibit of Degas' monotypes! Monotyping is a printmaking technique originated in 17th century Italy, a process by which the artist paints on a smooth non-absorbent surface, then transfers that image to paper.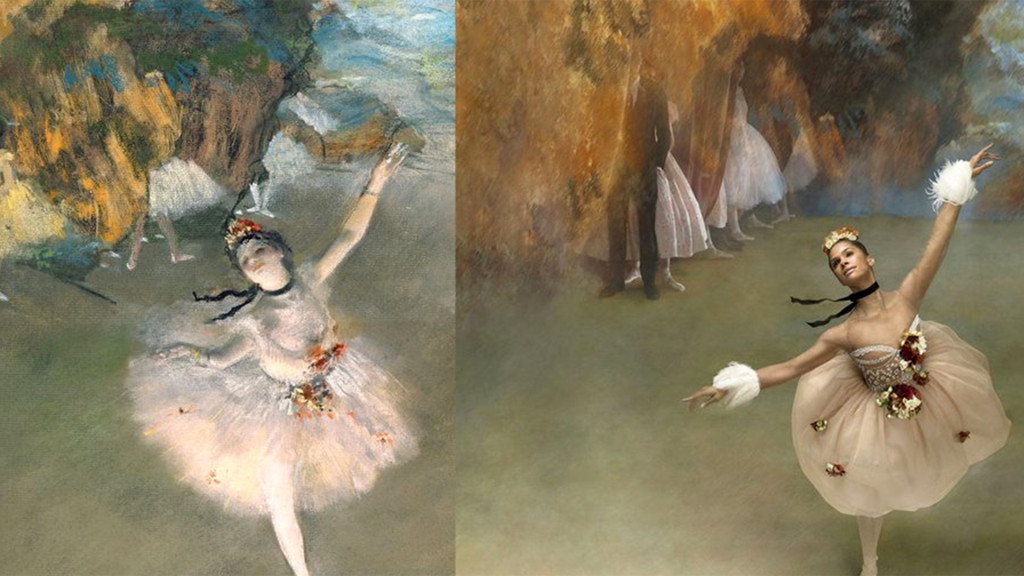 "The Star", by Edgar Degas. View "The Star" at the Philadelphia Museum of Art. Rendered by Misty Copeland in Valentino dress, Wilhelm headpiece and Mokuba ribbon.
In anticipation of "Edgar Degas: A Strange New Beauty", the geniuses at Harper's Bazaar have collaborated with Misty Copeland–the American Ballet Theatre's first African American principal dancer in the company's 75-year history–to channel some of the impressionist master's most well known works from painting to photo, with Misty outfitted in couture.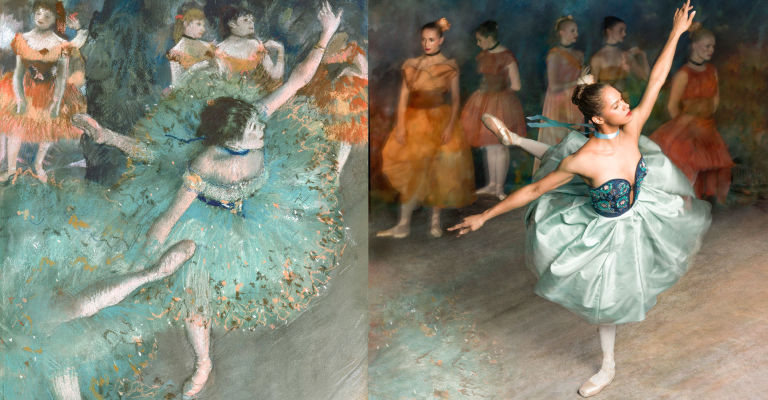 Misty channel's Degas' "Swaying Dancer", while wearing an Oscar de la Renta dress; Mokuba ribbon; and a headpiece by Hatmaker by Jonathan Howard. You can view Degas's "Swaying Dancer" by visiting Spain's Museo Thyssen Bornemisza.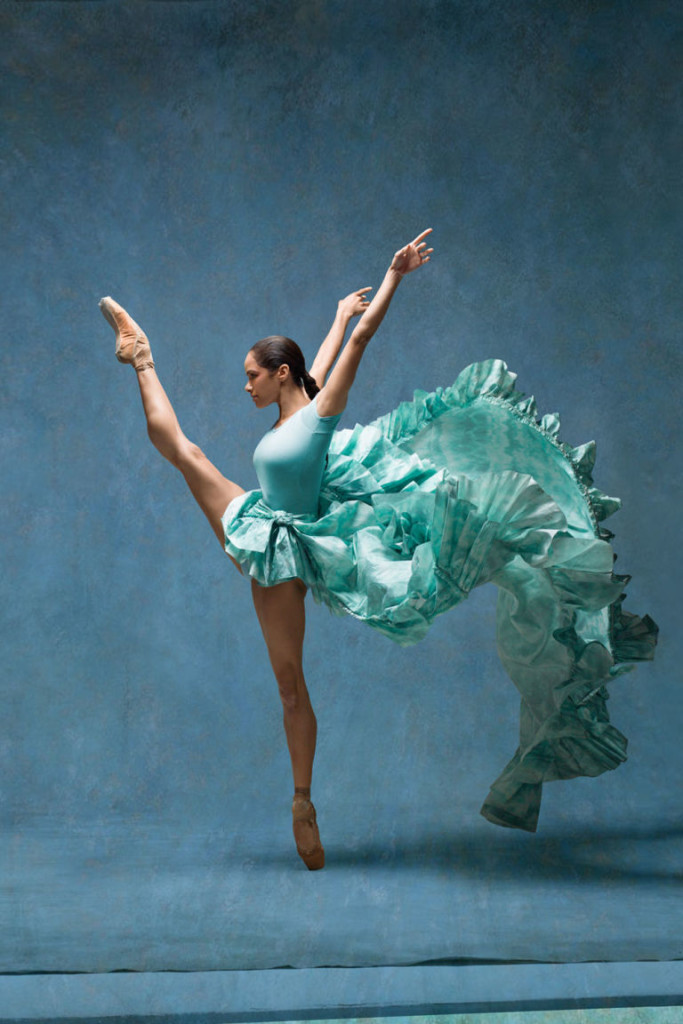 "I was drawn to ballet and performing for a reason that I think a lot of people can't really understand or relate to . . . It was the first time in my life that I felt protected."  Misty wears a leotard by Capezio and a Roberto Cavalli skirt.
A man after mine own heart, Degas was primarily interested in capturing beautiful clothes on canvas, and the elegance and grace of the ballerinas: "People call me the painter of dancing girls. It has never occurred to them that my chief interest in dancers lies in rendering movement and painting pretty clothes."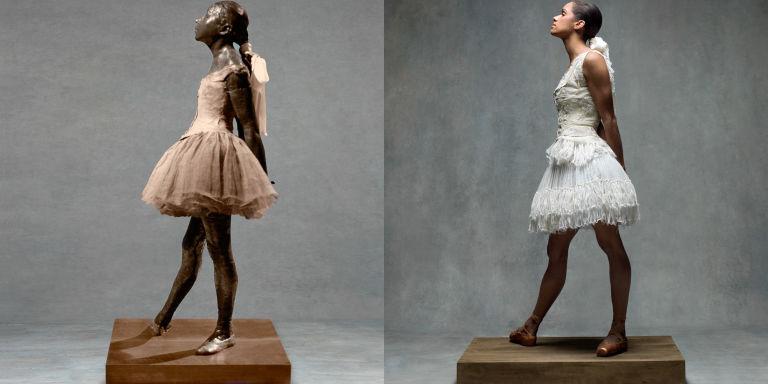 Degas' only sculpture: "Little Dancer, Aged Fourteen". Misty wears an Alexander McQueen dress. Ribbon in hair from Mood Fabrics.
There are 28 bronze repetitions of Degas's "Little Dancer, Aged Fourteen" in museums around the world. The Philadelphia Museum of Art says this about the work: "A young dancer named Marie van Goethem posed for what would be the only sculpture that Degas exhibited in his lifetime. Originally executed in wax and shown in 1881, the work daringly incorporated real elements such as the dancer's tulle tutu and silk hair ribbon. The sculpture was cast in bronze around 1922, several years after Degas's death."
Misty becomes Edgar Degas' "Dancer" in Carolina Herrera top and skirt; Hatmaker by Jonathan Howard headpiece; and Mokuba ribbon worn as a belt.
"Edgar Degas: A Strange New Beauty" will run from March 26, 2016 through July 24, 2016 and will feature 150 monotypes and 50 related works. MoMA is located at 11 West 53rd Street, New York, NY 10019. Click here to read more about Misty Copeland for Harper's Bazaar.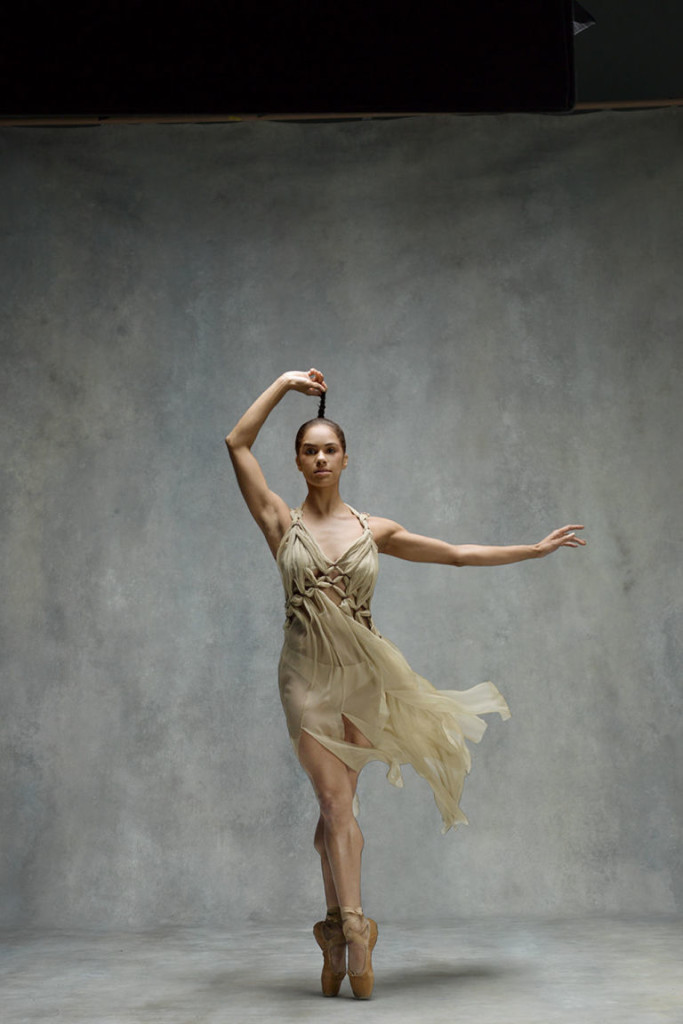 Misty wears  an Alberta Ferretti dress in photo above.
Article by Naki. Photos by Ken Browar and Deborah Ory via  Harper's Bazaar. Keep up with Naki on Instagram, Pinterest, Facebook and Twitter.