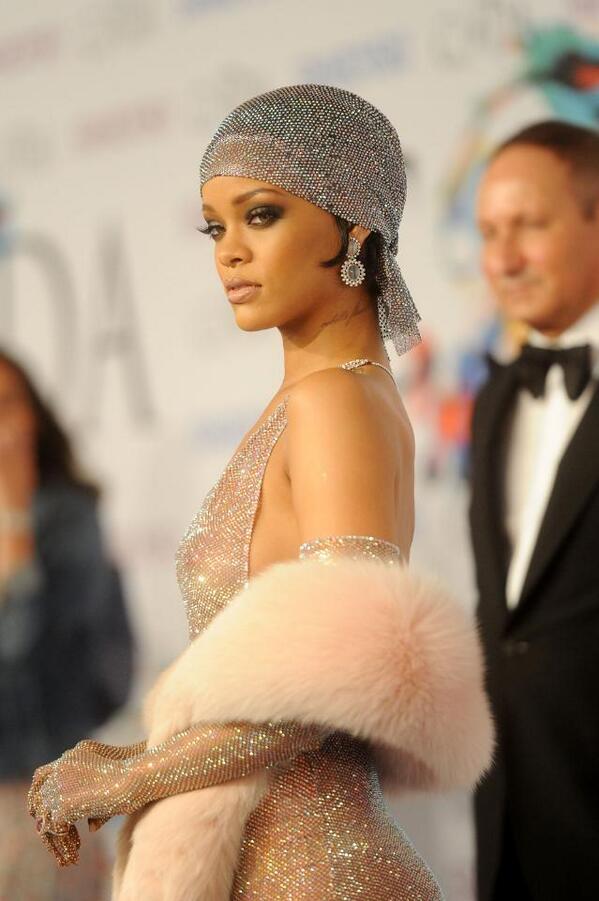 "You will never be stylish if you don't take risks." – Rihanna
Known as the fashion world's Oscars, the Council of Fashion Designers of America Fashion Awards took place last evening at Alice Tully Hall in Lincoln Center, the venue for Mercedes-Benz's New York Fashion Week.  The annual CFDA event recognizes standout contributions to American fashion in areas across the industry. The event is also attended by legion models—usually wearing, and accompanied by, their favorite designer; industry heavyweights; and even Hillary Clinton. The CFDA Fashion Awards is noteworthy for many reasons, and it is especially so this year since Rihanna is the recipient of the industry group's Fashion Icon Award.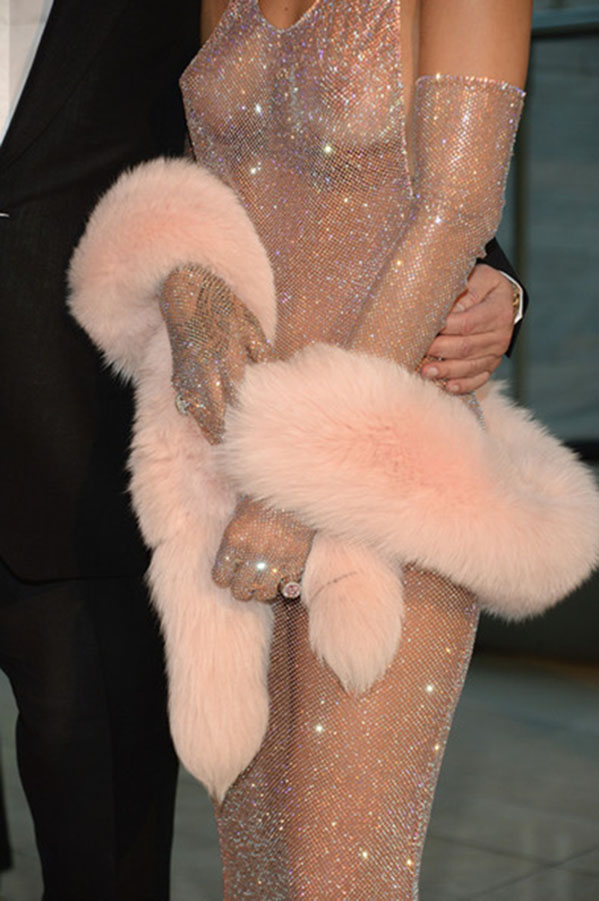 If there were any doubts as to why Rihanna was selected for such a reverential award at her tender age, then they were all disabused by her ensemble for last night's event. There's not much that I can say to improve upon the stunning picture that her spectacular see-through fishnet dress, gloves and scarf painted. But I'll give it the 'ole college try. Rihanna's bejeweled ensemble was custom-made by Adam Selman and is brilliant (literally, figuratively, and in every other sense of the word)—seemingly embellished with myriad Swarovski crystals.
The draw-dropping ensemble is important for a number of reasons. It: (i) confirms Rihanna's selection as an icon—an icon is as an icon does and her dress is iconic. Period. Punto. Fin; (ii) responds to the Instagram situation without saying a word #slaymen; (iii) affirms Lupita Nyongo's Met Gala outfit—down to the time period which it references—what a cheeky salute! Real recognizes real after all I can't understand why folks didn't like Lupita's dress in the first place either, Rih; and (iv) last, but not least, solidifies Rihanna's place as a leading trend interpreter (the dress manipulates a number of current trends—metallics, see-through and mermaid—into a beautiful, cohesive whole), trendsetter, trend forecaster . . . a designer's dream. Zac Posen presciently stated, right before Rihanna's arrival on the 2014 CFDA Fashion Awards' blue carpet: "[Rihanna] marches to her own drum and she knows what she likes . . . that's why people love to dress her."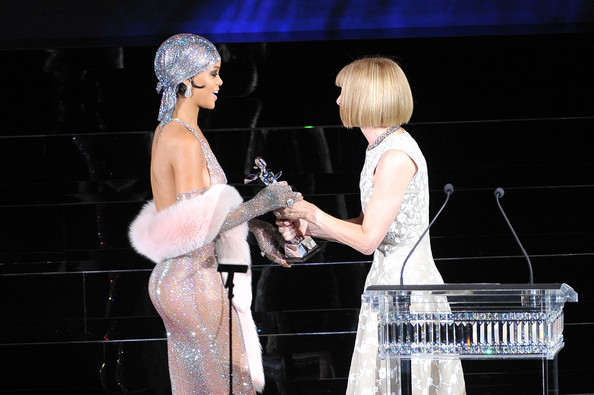 Rihanna is presented with the CFDA's Fashion Icon award by Vogue's editor-in-chief Anna Wintour
I know you're here for the clothes though—all of the attendees' attire, not just Rihanna's. In short, everyone looked nice albeit relatively staid compared to Rih-Rih. It was also a colorful affair: Heidi Klum was just peachy; Iman and Bridget Moyahan wore jewel-toned turquoise, indigo and violet, respectively; and Beth Behrs wore an emerald green crop-top/midi skirt combo. Metallics abounded, especially silver, with Karen Elson wearing a gilt-laden cocktail Michael Kors number and Thea Andrews in a molten silver Grecian-inspired number.  The Mermaids wore mermaids, including Naomi, Solange, Hilary Rhoda and Chanel Iman—who wore Monique Lhuilllier. Rachel Roy and Jenna Lyons looked smart in dark blazers paired with florals—each topped off her scholarly look with a severe chignon.
See what everyone else wore in the gallery below. Congratulations to the nominees and winners!
 ALTUZARRA, JOSEPH ALTUZARRA
Womenswear Designer of the Year
PUBLIC SCHOOL NYC, DAO YI CHOW + MAXWELL OWBOURNE
Menswear Designer of the Year
THE ROW, MARY KATE + ASHLEY OLSEN
Accessories Designer of the Year
CREATURES OF THE WIND, SHANE GABIER + CHRISTOPHER PETERS
Swarovski Award for Womenswear
TIM COPPENS
Swarovski Award for Menswear
IRENE NEUWIRTH
Swarovski Award for Accessories
BETHANN HARDISON
The Founders Award in Honor of Eleanor Lambert
RUTH FINLEY
Board of Directors' Tribute
TOM FORD
Geoffrey Beene Lifetime Achievement Award
RAF SIMONS, DIOR
International Award
PAUL CAVACO, ALLURE
The Media Award in Honor of Eugenia Sheppard
RIHANNA
Fashion Icon Award
Curious to know how the selection process works? Nominations are solicited from The CFDA Fashion Awards Guild which includes over 450 member designers, top fashion stylists, journalists, influencers and retailers. Nominees are then ratified by the CFDA Board of Directors and votes are tabulated by Ernst & Young.
– Naki