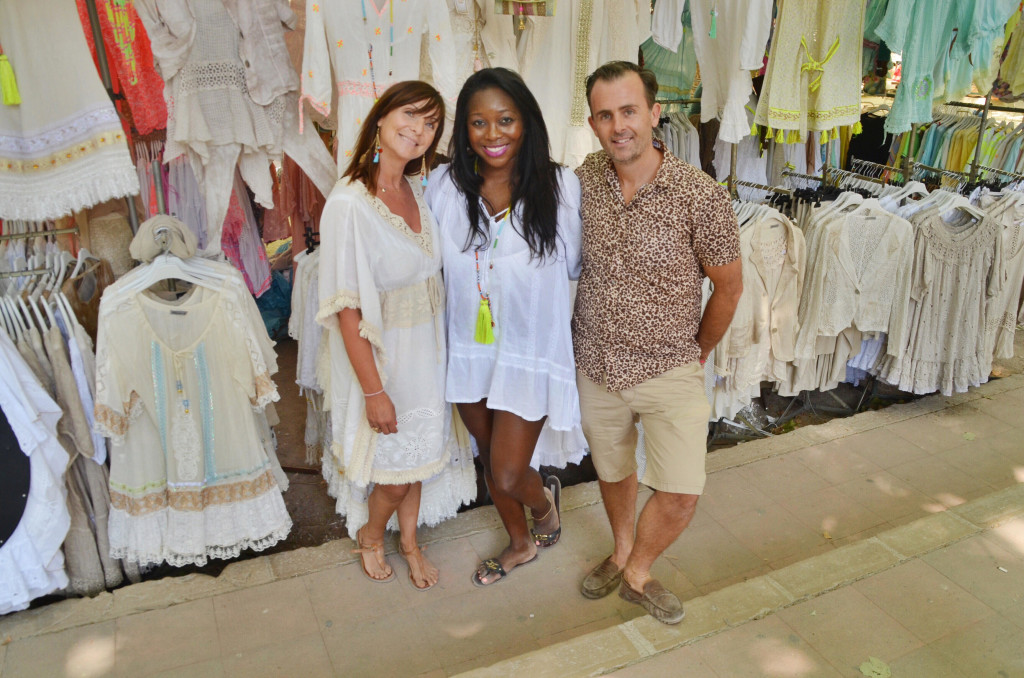 Of all the treasures Saint Tropez, France has to offer, one of my favorite experiences in this famed Cote d'Azur town was meeting husband and wife design team Nelly and Stephane Gribel in the delightful open-air market, The Place des Lices.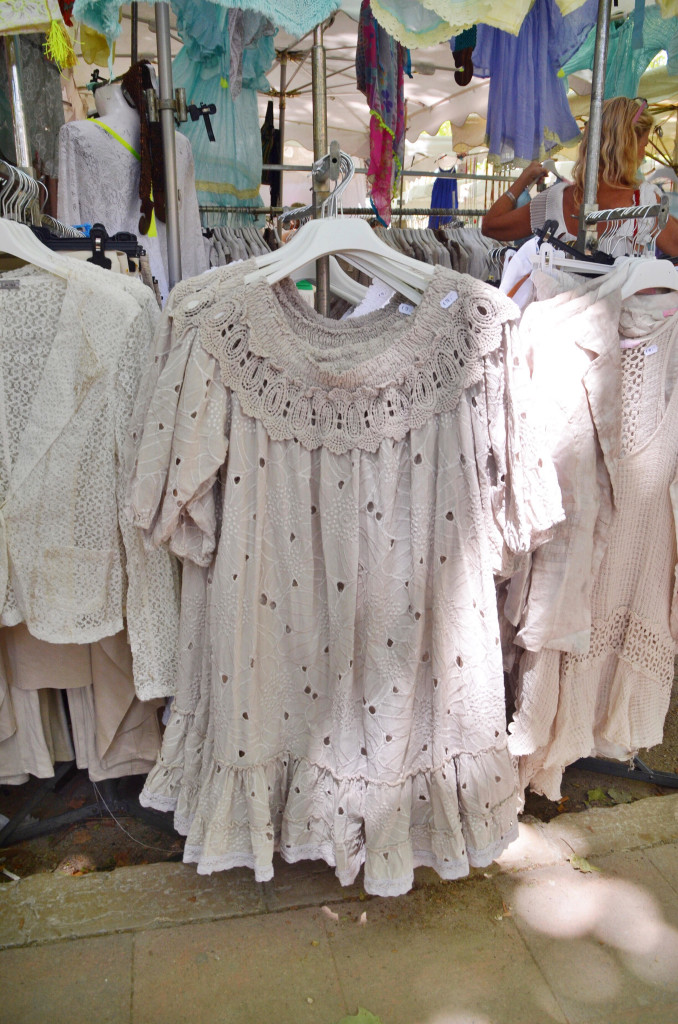 As a student of fashion, I generally enjoy forecasting fashion trends and realize that the best way to get a sense of fashions that are on the horizon is to observe the women of France–Parisian women specifically–as they are generally many months (up to a year) ahead of their fashionable sistren the world over. Given St. Tropez's reputation as a hotspot for the monied jet set, I was sure that the fashions there would be forward enough to rival the most fashionable of Parisian women, many of whom head down to the South of France, to towns like St. Tropez, during the summers.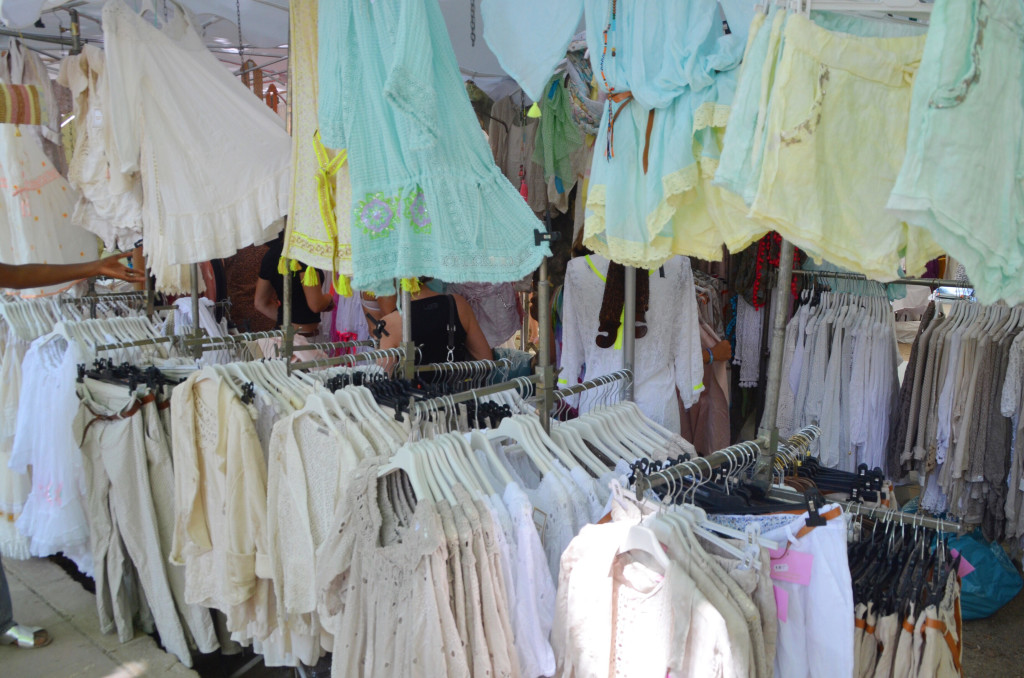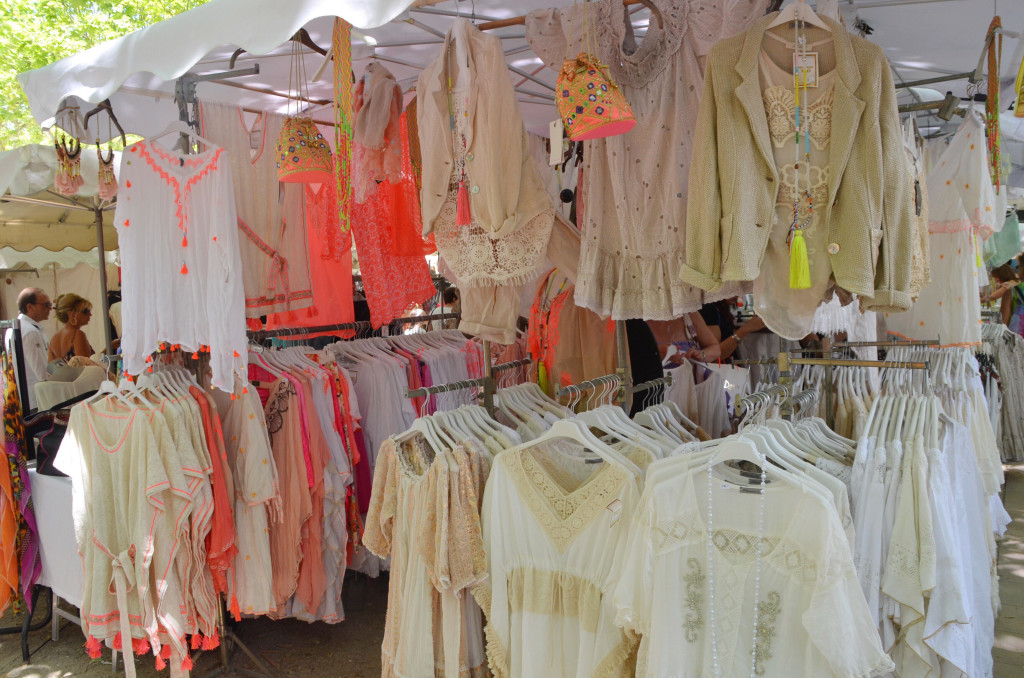 I was drawn to Stephane's and Nelly's stall after browsing the many stalls overflowing with cured meats, pungent cheeses, flavorful herbes de provence, and moody art. Their stall was bright and cheerful–a direct reflection of their personalities. I loved the easy bohemian feel of their garments, which were mostly cotton with beautiful lace detailing, highlighted with metallic thread or pop poms and more. The colors were muted neutrals, often with a pop of neon. Some of their pieces were accessorized with long lariats with pendants of bright neon tassels. In fact, Nelly was wearing one such necklace when we met.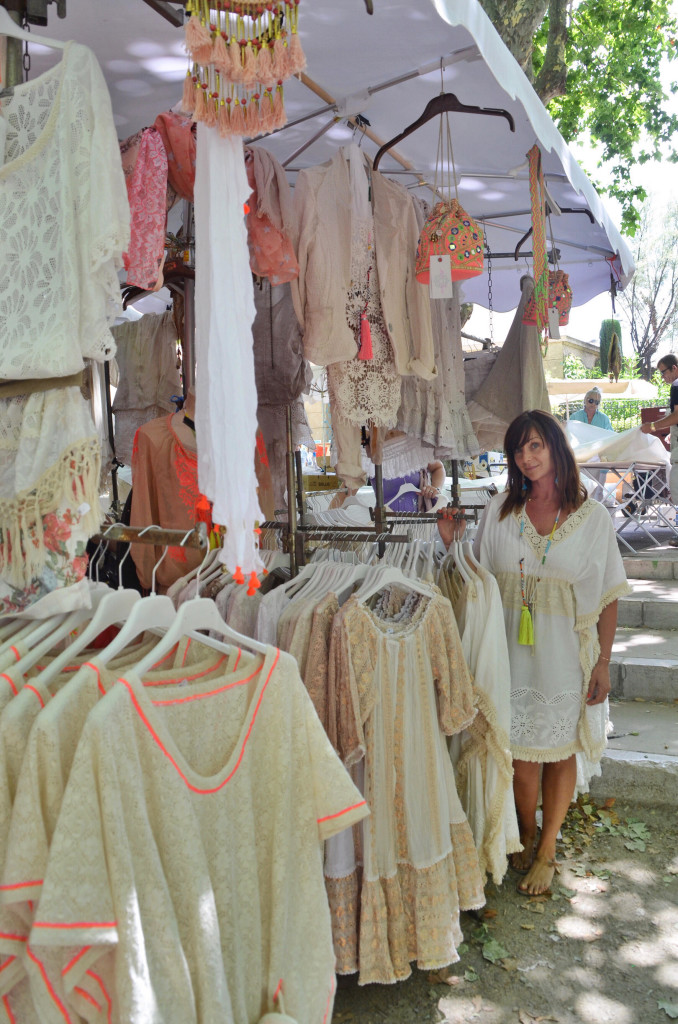 I was confident then, after observing her stall, her style, and the easy breezy fashions of the other women in St. Tropez, that I was on to something. Almost all of these women were wearing bohemian garb, if not with pom poms, then with a long bright tassel necklace like the one Nelly wore–and which she ultimately gifted to me. Take a look at the pictures below to see me wearing a dress from Nelly's and Stephane's line, Princess Tao, named after the Thai island of Ko Tao, a destination which has special significance to the couple. You'll see that I'm also wearing the necklace that Nelly was wearing in St. Tropez.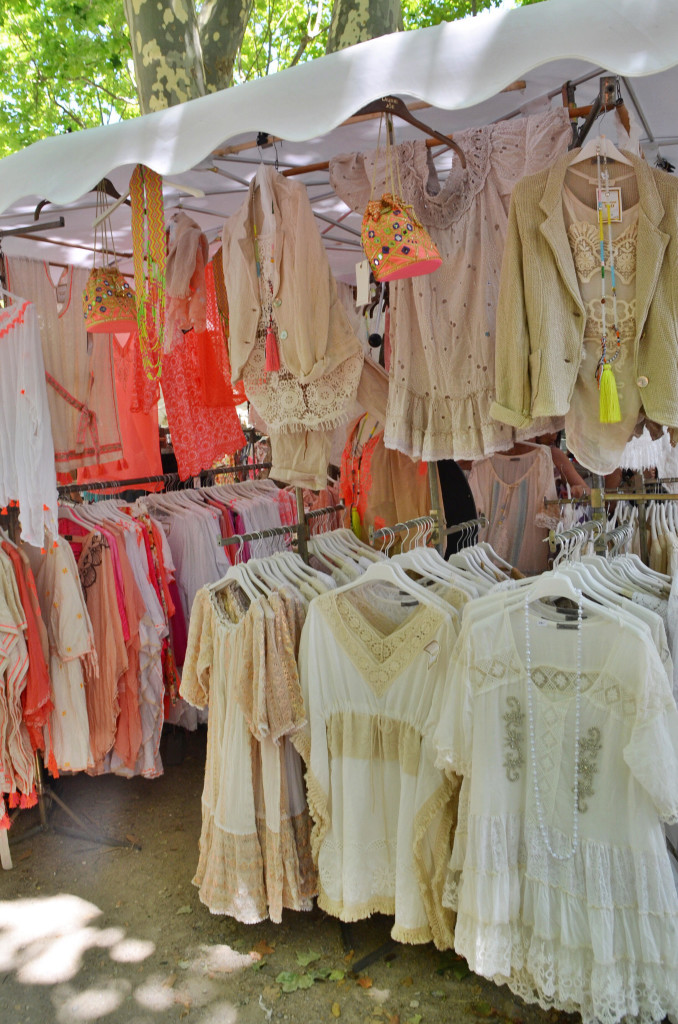 The result of my sleuthing for fashion trends that women in the states would wear a year later? I walked away from Stephane's and Nelly's stall confident that bohemian-wear, pom poms and tassels would be all the rage, and voila, so it is–a year and change later.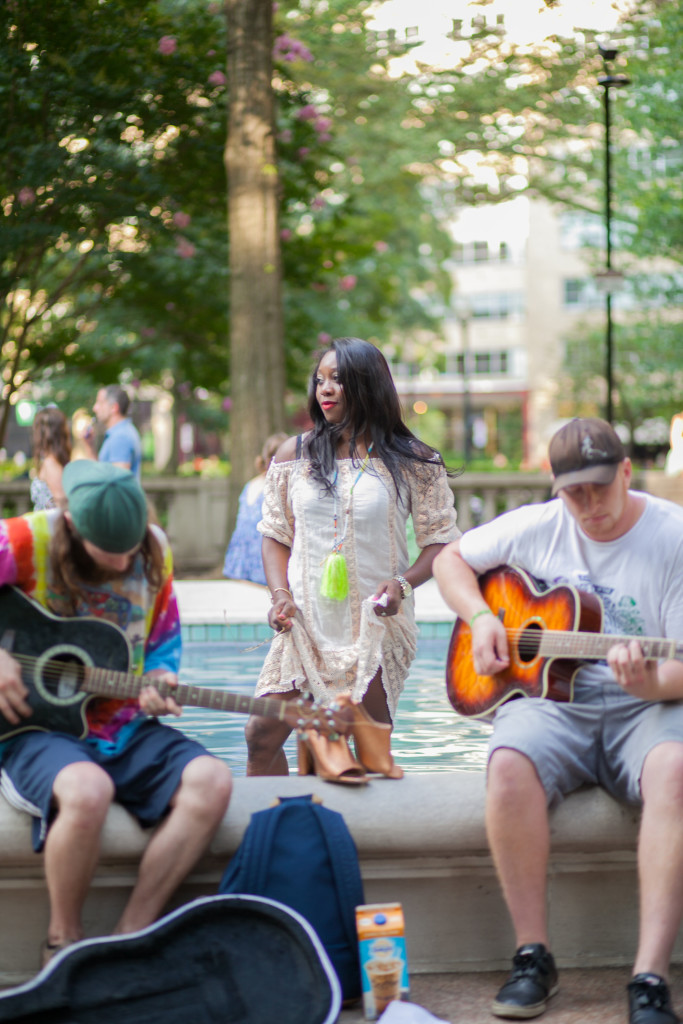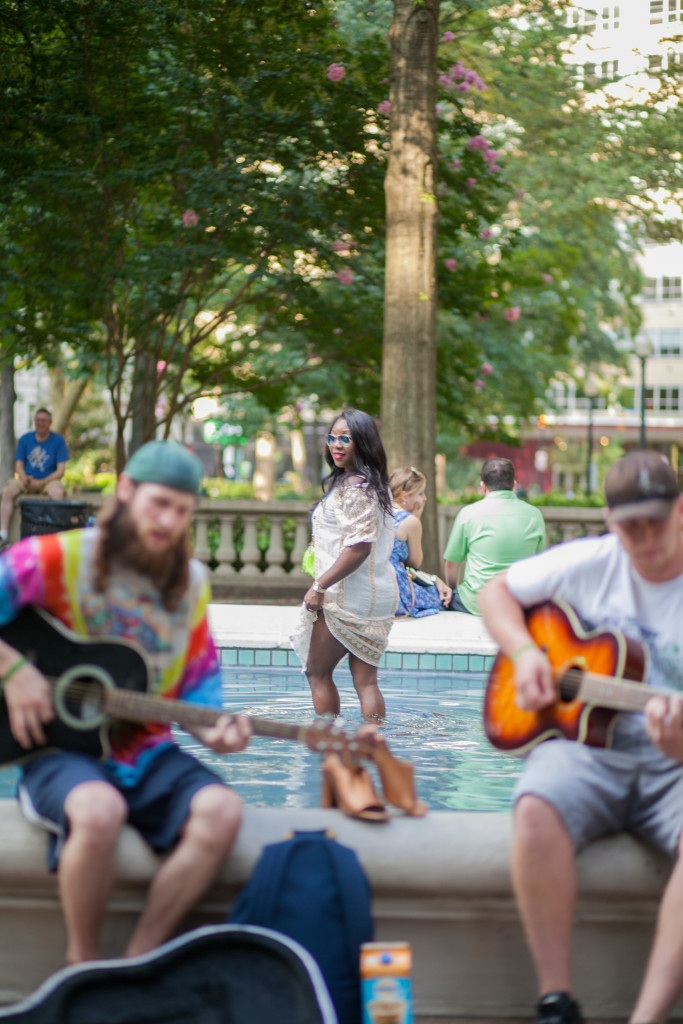 Read below for more of my interview with the designing duo. Translation made possible by Google Translate:
StyleChile: What inspired you to start your line Tao Princess?
Stephane + Nelly: We love fashion and creating, and we created our brand Tao Princess because we could not find a nice collection that suited us.
StyleChile: How does it feel to work with your spouse on your brand?
Stephane + Nelly: We like to work together and it's easy to do so because our ideas are complementary.
StyleChile: What's next for you two on your designing journey?
Stephane + Nelly: After many customer requests, and requests from professionals  in fashion, we created a second brand "Shahé Lélé" exclusively for shops.
 This year we have a French commercial agent who broadcasts the brand on the French Riviera, the French Antilles, Corsica, Ibiza, Barbados.
 We were contacted by a foreign sales agent that represents sectors such as Belgium, Holland and Germany for the summer collection 2016.
 We would love to be represented the USA one day! 
StyleChile: Tell me more about Shahé Lélé? And, how did you choose that name?
Stephane + Nelly: Shahé Lélé is our second clothing brand exclusively for shops because the Tao Princess brand is exclusively distributed in the market of St Tropez. There's also a shop in Juan les Pins and a shop in Cannes. Shahé is an Armenian name (our 3 year old godson is called Shahé s) and Lélé for fun!
StyleChile: How would you describe the women who wear your designs?
Stephane + Nelly: Our dresses and tunics are means for our clients to feel different and unique by wearing pieces of real creators. Our customers love creating, natural materials, colors, lace, embroidery.
StyleChile: What are some of your favorite things to do in St. Tropez and what would you recommend for StyleChile readers to do here?
Stephane + Nelly: In St Tropez we like the market every Tuesday and Saturday morning, so typically, The Place des Lices. We love the streets of the city, with the many shops, churches and restaurants. We love the port and the boats, the beaches of Ramatuelle and surrounding villages: Grimaud and St. Maxim.
Stephane and Nelly do not have a website as yet, but if you'd like to get in touch with them, please let me know!
Click here to view vintage StyleChile Movement articles! And stay tuned for more on our trip to St. Tropez and a few other towns in the French Riviera. Article by Naki. Professional photos of Naki in Rittenhouse Square by T.G. Anderson of Ubara Photo. Photos of Naki in St. Tropez by StyleChile contributors Pamela and Keisha.