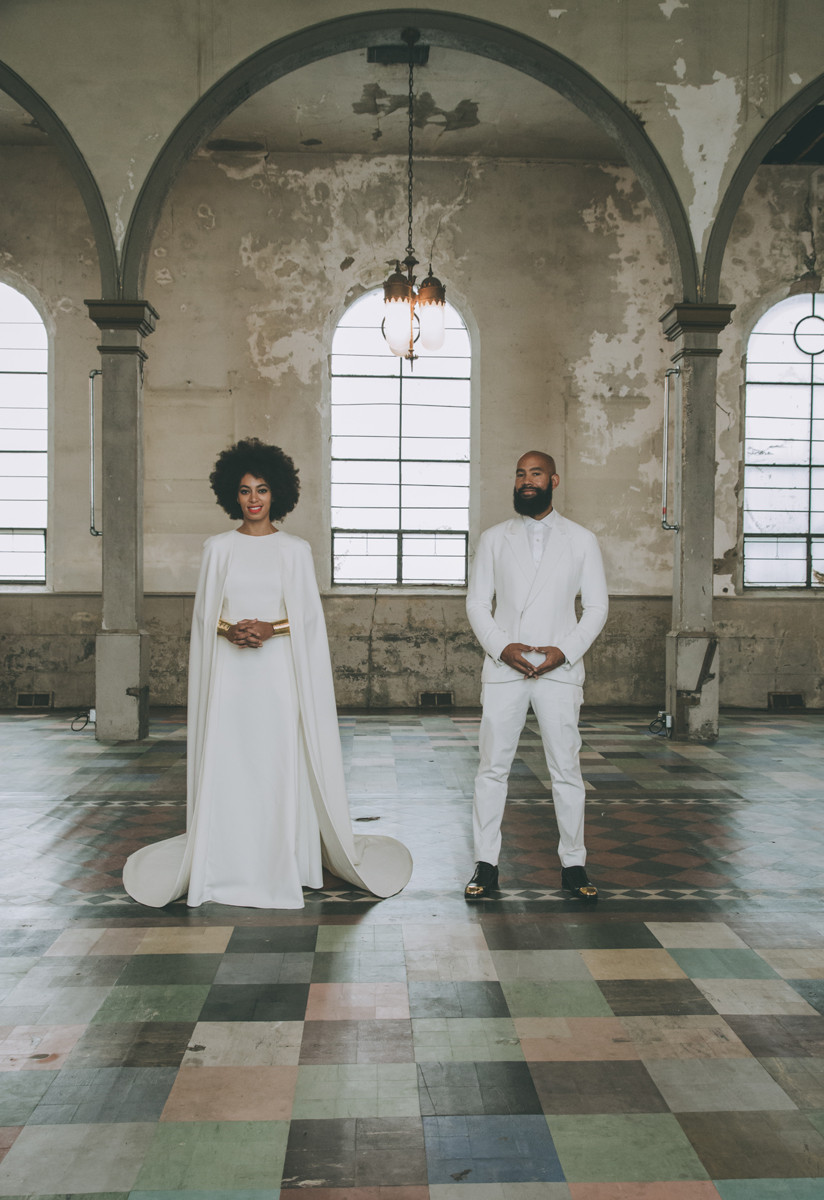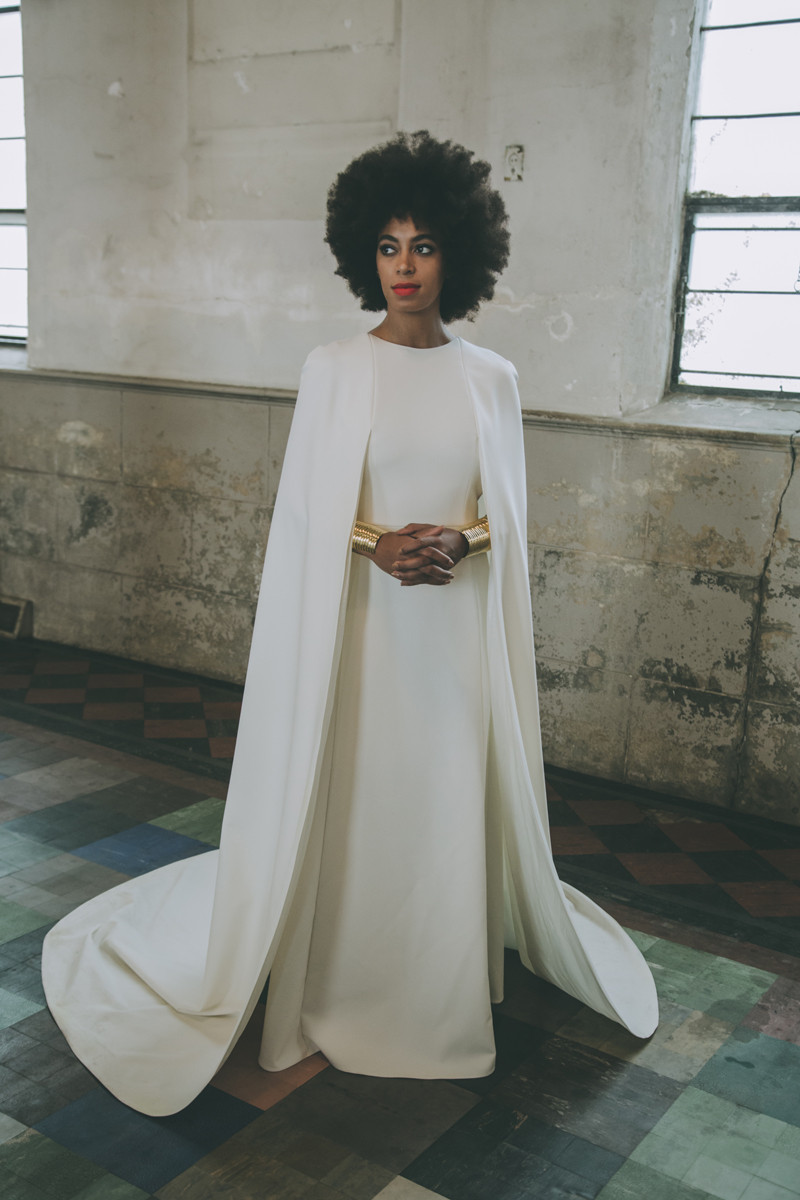 Known for her distinctive style, her fantastic singing voice, and also known as one-half of the world famous Knowles sisters, Solange stayed true to idiosyncratic form as she married long-time beau, 51-year-old music video director Alan Ferguson, this past weekend in New Orleans. As one who is often at the forefront of the vanguard of stylish entertainers, whose unique style–what I would consider forward thinking, somewhat avant-garde, a bit bohemian and always evoking high-art with architectural lines and cultural elements (usually referenced by a fab print or, the jusxtapostion of several fab prints) and lots of color, often topped off with a buoyant afro or down-to-there braids–has come to be regarded as her calling card in much the same way as her musical talents (including songwriting and production skills).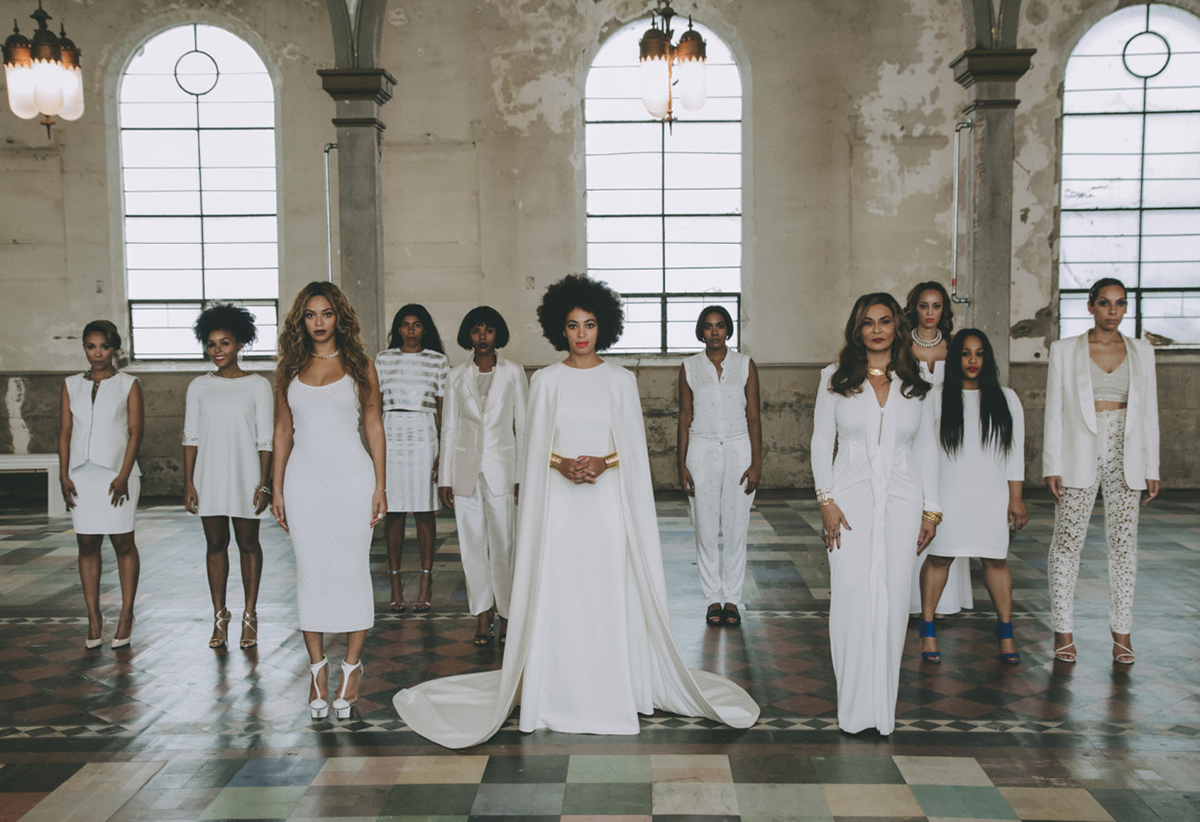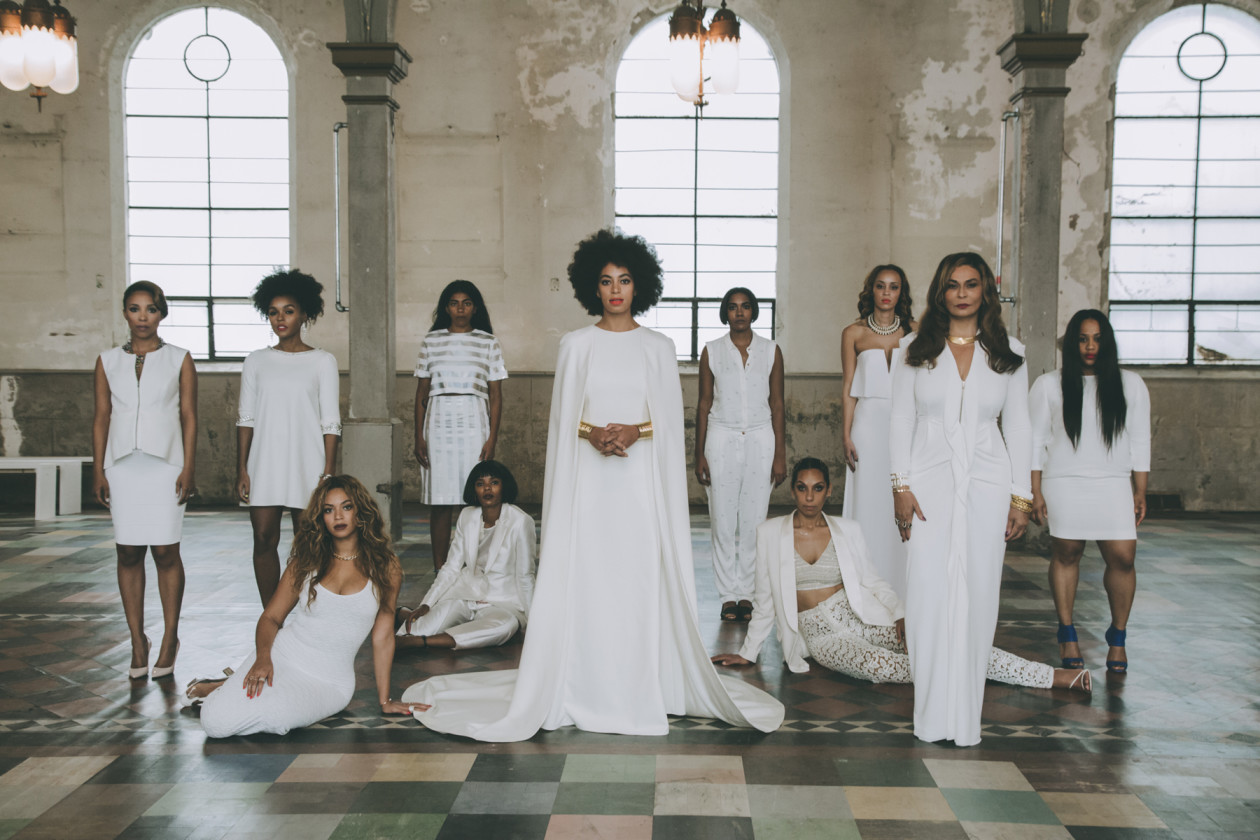 Unsurprisingly, as a member of a family that fiercely protects its privacy from media scrutiny, Solange has only shared a few details via Vogue magazine and her big sister Beyonce's instagram account. The few photos that we have seen depict a tableau that's (a personal favorite!): minimalist, monochromatic (all attendees wore white), with clean lines and references to  art (including, per Vogue, "a nod to the work of contemporary Italian artist Vanessa Beecroft"). Solange's cream colored caped wedding dress was designed by Kenzo's Humberto Leon and would make the likes of Tilda Swinton and her arthouse set swoon. She accessorized the chic wedding ensemble with Jill for Lady Grey bracelets and Stuart Weitzman shoes. Solange arrived at the wedding in a jumpsuit, a magical ivory number with a plunging neckline and daring back, which was designed by Stephane Rolland, and is the modern bride's answer to a wedding-day look that's suited for cyling. Mr. Ferguson was the perfect sartorial complement to his bride, as he wore an all-white ensemble by Lanvin. Additional wedding details include: performances by  Philly's own Questlove, Kindness and Kelela; white colored bicycles adorned with white roses and wedding portraits by Rog Walker.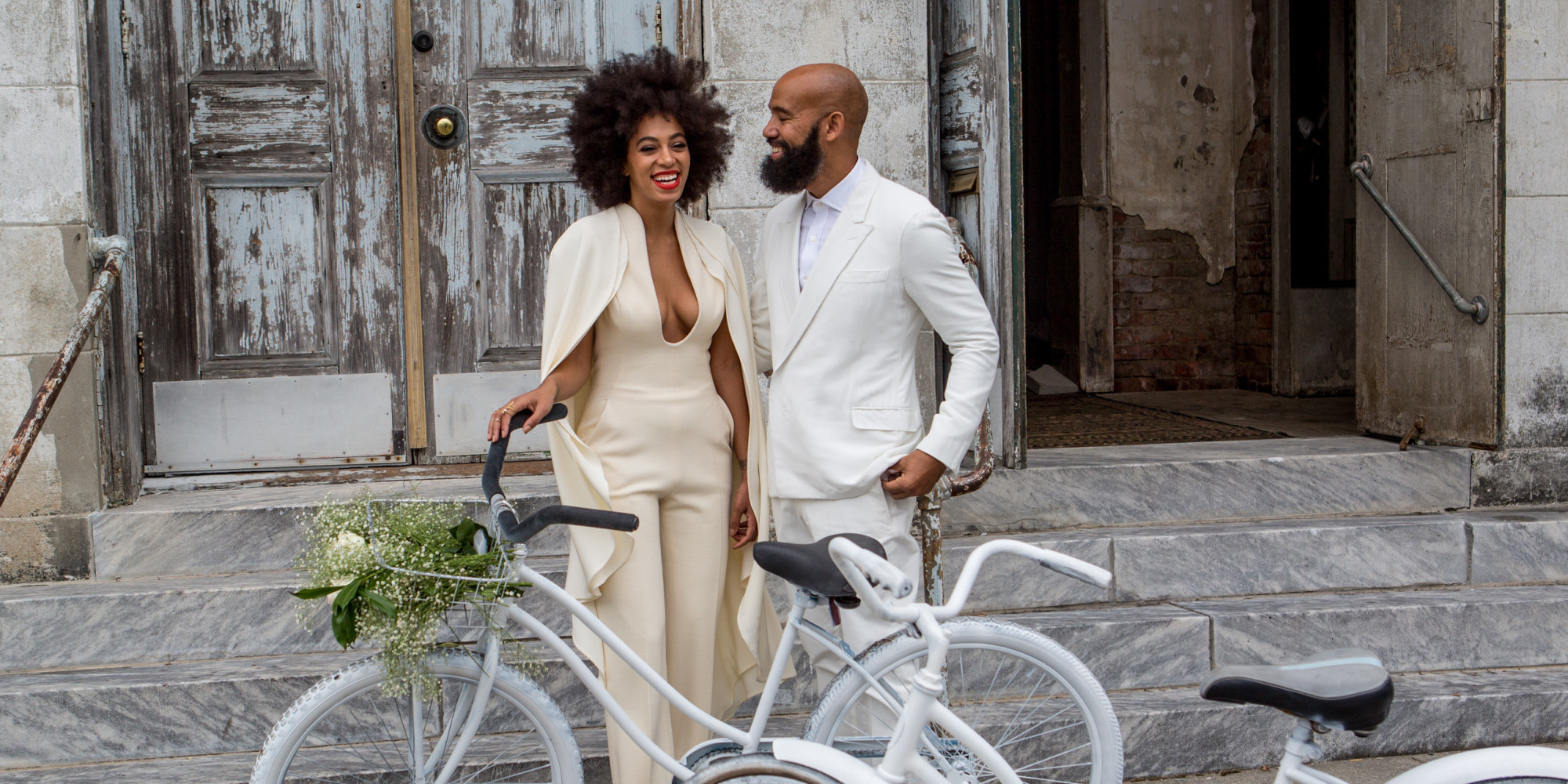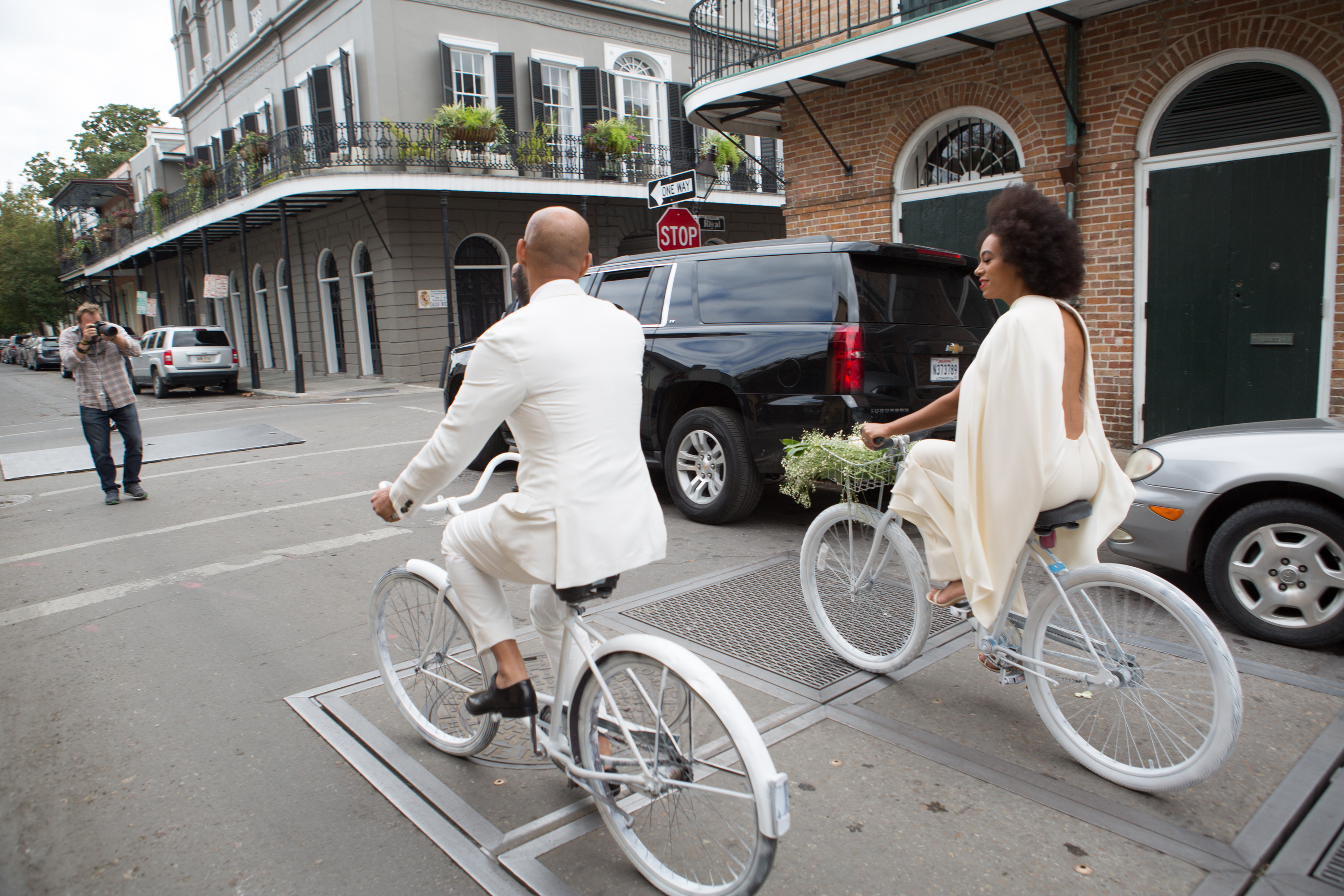 Excellent success and the best of wishes to you in your marriage, Solange. Well done!
Article by Naki. Official wedding photos by Rog Walker.