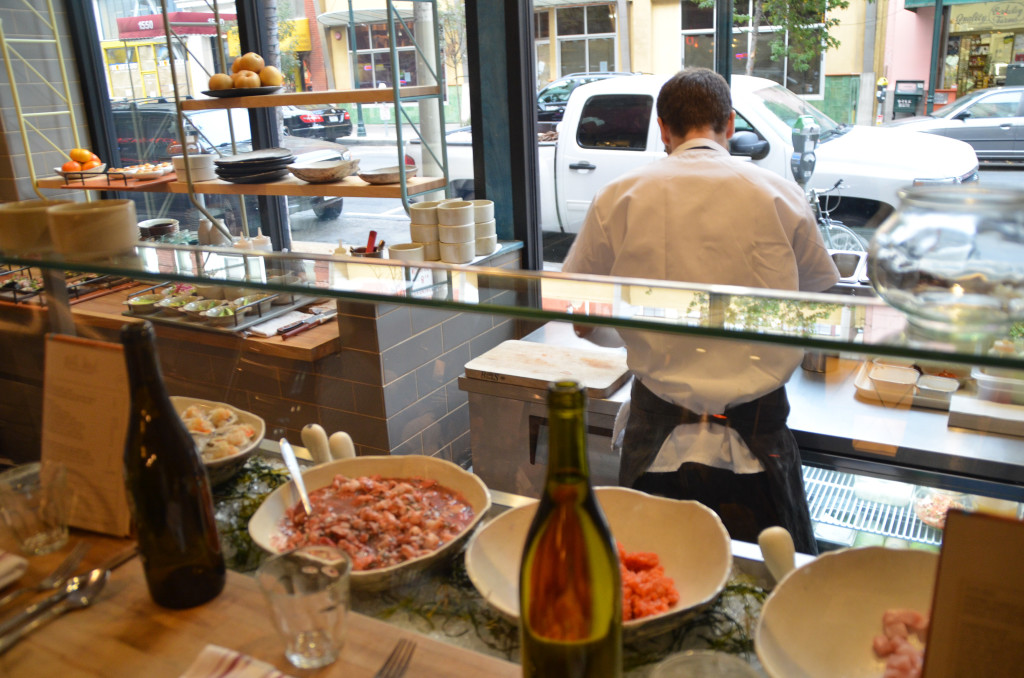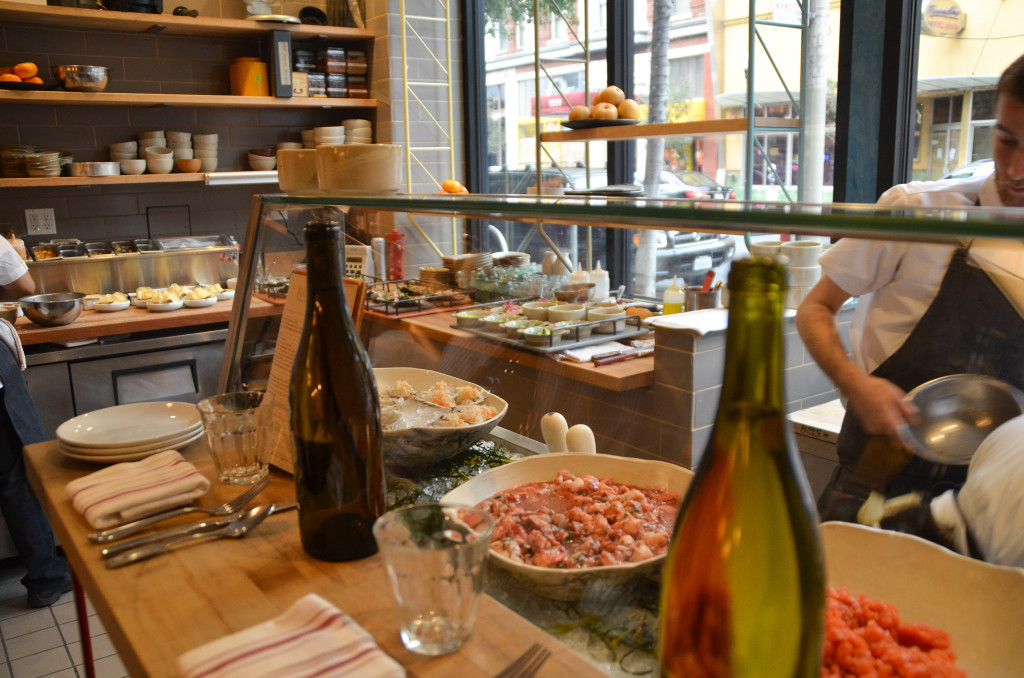 I thought it was auspicious that the only reading material brought along for a romantic weekend to the Bay Area (to explore San Rafael, Napa Valley and San Francisco) was an issue of Elle Decor that, unbeknownst to me when I selected it, included a feature on San Francisco—the city that is affectionately known as the Paris of the West.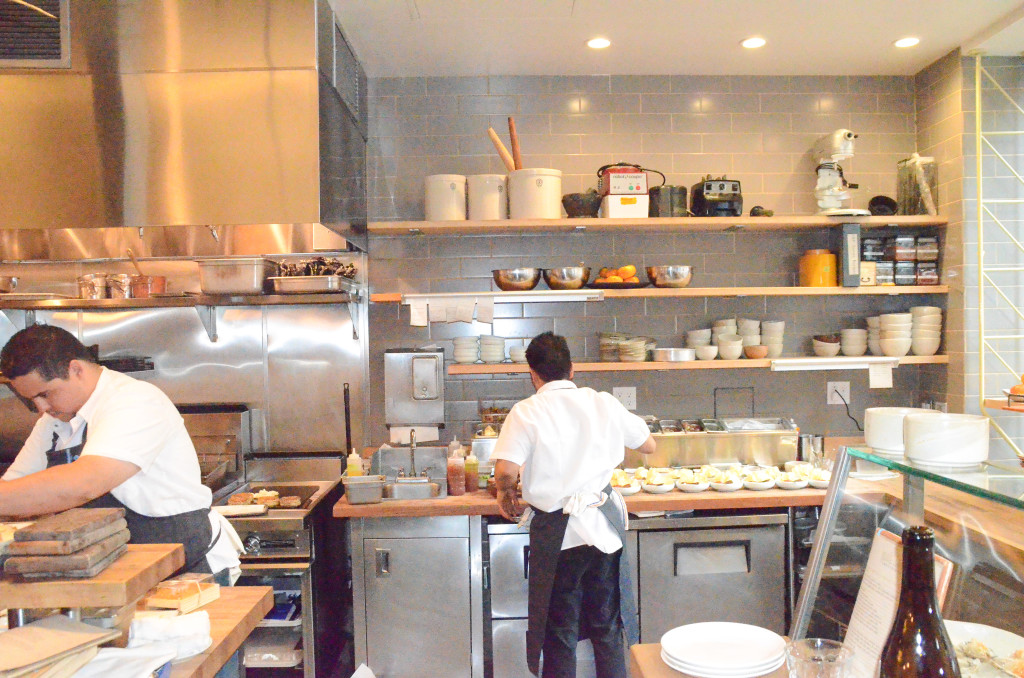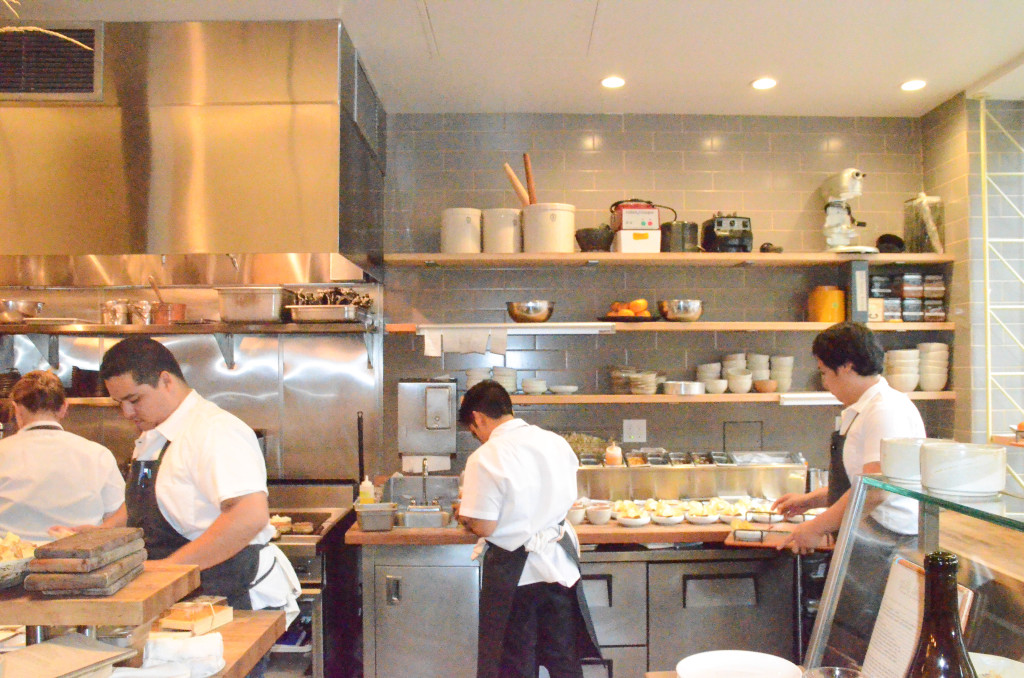 The article was replete with info about San Fran's trendiest neighborhoods (Dogpatch); hippest boutiques (Mira Mira); coolest galleries (The NWBLK); chicest hotels (The Battery); and the city's many world class restaurants, including State Bird Provisions—which was already a James Beard winner for Best New Restaurant and Bon Appetit's Restaurant of the Year. The restaurant has since earned more accolades, including a prized Michelin star, and remains one of the hardest restaurants in which to get a table in San Francisco (typically fully booked, two months in advance).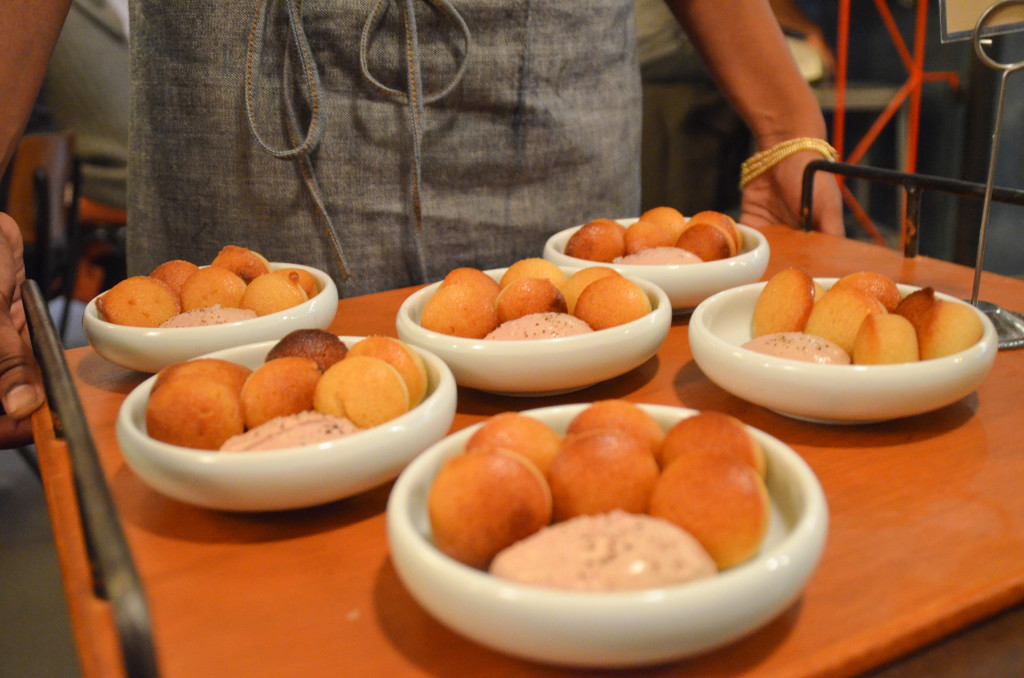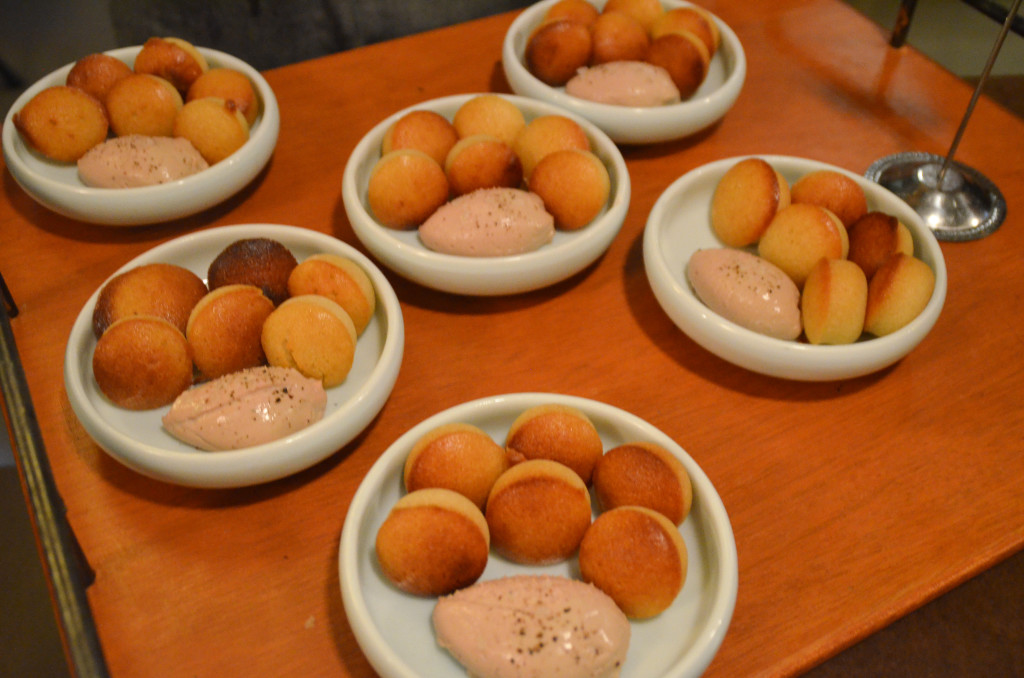 Quenelles of sweet, rich duck liver mousse pair surprisingly well with sweet-ish almond biscuits. State Bird Provisions' cake-like biscuits offer a nice textural contrast to the creamy liver—kinda' like biscuits with jam or honey, but with the unctuousness of whipped butter.
Naturally, I wanted to try State Bird Provisions, and went about securing reservations after sharing photos of the Elle Decor article with the restaurant's management team (who were unaware of the article at the time). That's when I learned that the 45-seat restaurant had been closed for renovations and was reopening that very weekend, just a day or two before my reservation. I felt strongly that I was destined to dine there, and this fortuitous turn of events confirmed my belief.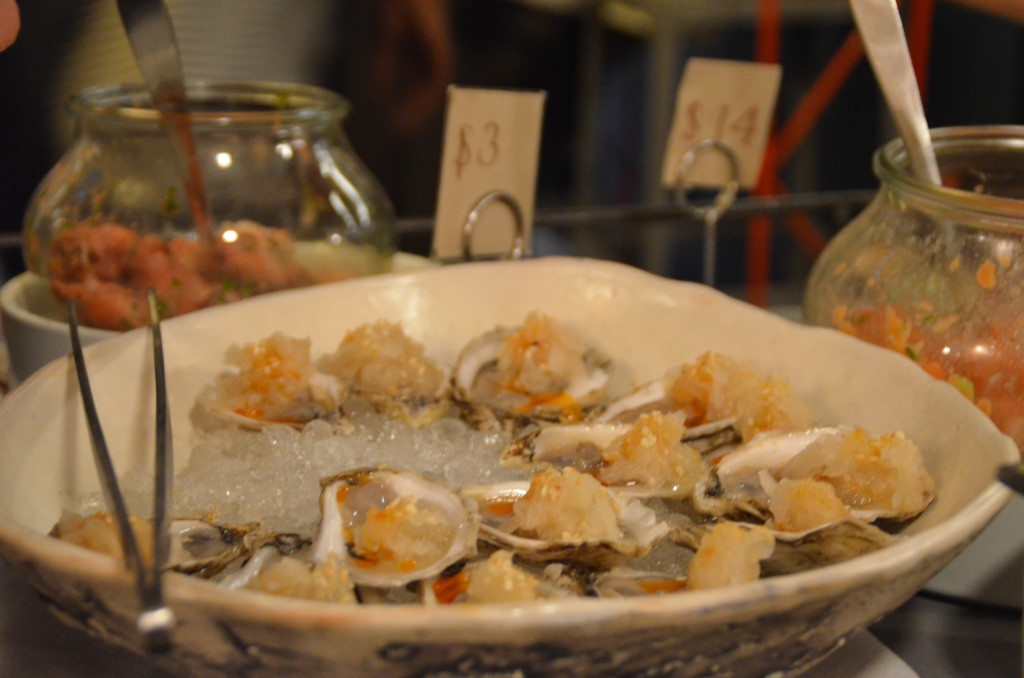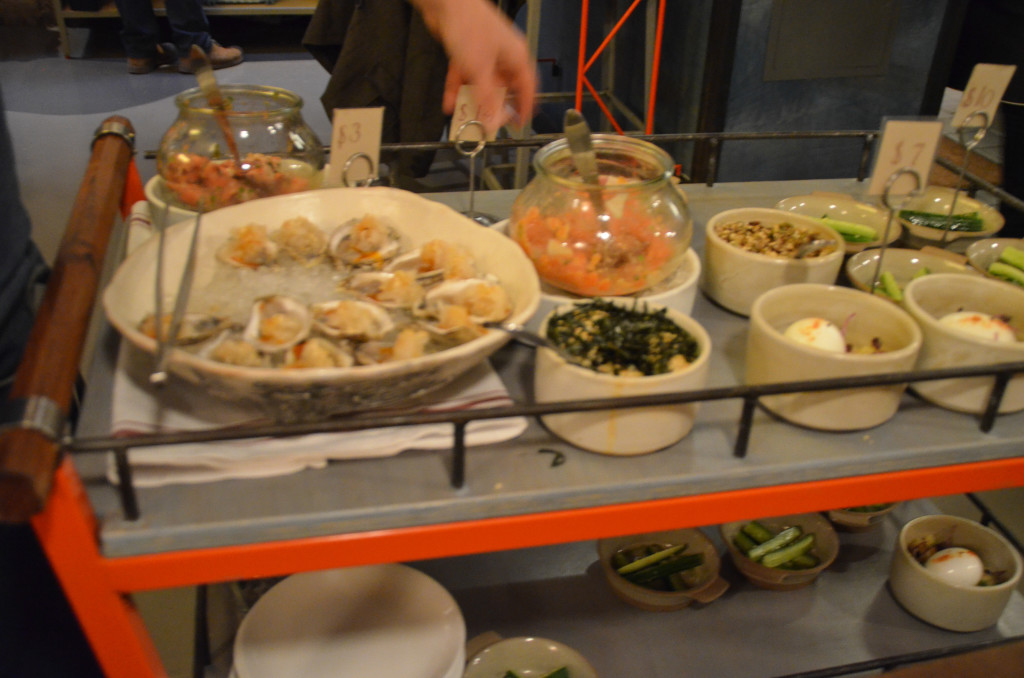 Refreshing raw oysters with spicy kohlrabi kraut & sesame, served on a dim sum cart…
Located right next to The Brooklyn Circus, in San Fran's famed Fillmore District, the  industrial style restaurant with utilitarian appeal (highlighted by primary colors) is named after California's delicious State bird (the California Valley Quail) and serves up small plates, dim sum style—complete with carts and all.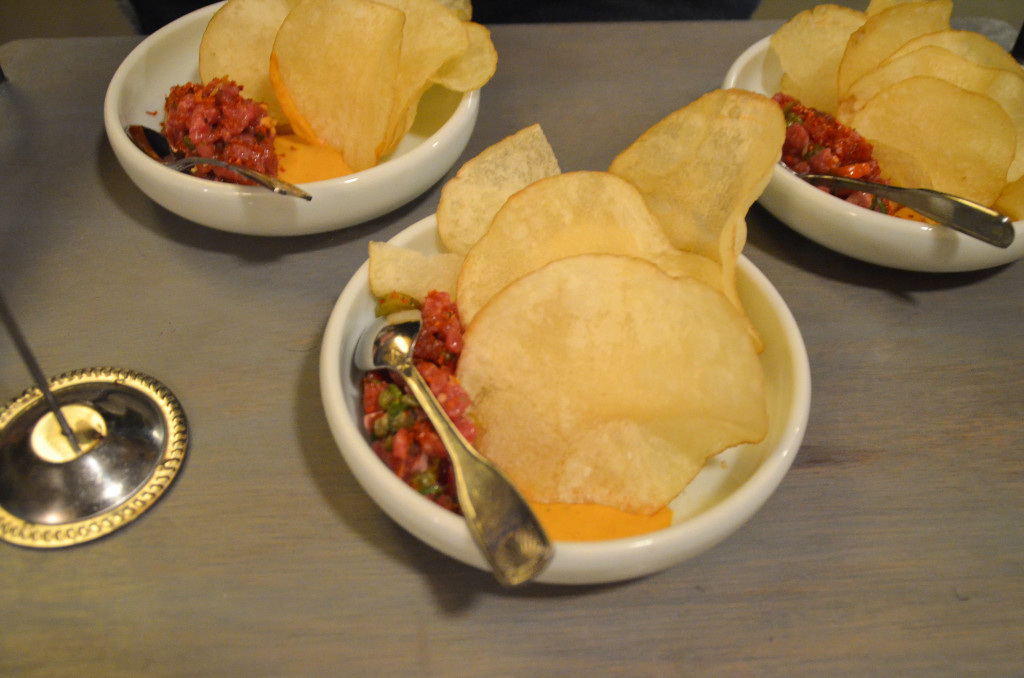 According to Chef proprietors Stuart Brioza and Nicole Krasinski: "State Bird Provisions started as a recipe for serving quail, it has slowly evolved into a restaurant without any programmed elements." It's that lack of programming, or what I'd call "thoughtful randomness", of the menu that lends to the experience of dining there. I mean, who doesn't get excited to try many different dishes in one sitting? I felt like a kid in a candy store, or, more precisely, since I don't love candy, like how I feel at Sunday dim sum at Ocean Harbor, or at a Thursday Korean BBQ dinner at Seorabol, or at a Friday brunch at Al Qasr, or a Saturday seven-course supper at Marrakesh—that is to say: delighted to be in the presence of so much food, so many plates laden with deliciousness!
We selected a few plates from that evening's menu, which consisted of the following:
PROVISIONS
raw oyster with spicy kohlrabi kraut & sesame $5
guinea hen dumpling with aromatic broth $3
chanterelle, persimmon + quinoa 'tabouleh' $5
rabbit + fontina croquettes $5
roasted cauliflower 'romesco' $5
duck liver mousse with almond biscuit $6
spicy kimchi yuba with smoked egg 'bottarga' $7
smoked trout, egg + potato porridge $7
garlic bread with burrata $8
charred octopus in tomato-chickpea salsa $8
steak tartare with jimmy nardellos $8
hamachi-avocado + seaweed cracker $9
pork belly + red flame grape salad $10
wild coho salmon tartare with fermented turnips $10
lobster 'salad' salad $14
To say that everything was delicious is an understatement. I enjoyed sampling the items in the unpretentious setting; and was beyond pleased with the Chefs' bold experimentation with locally sourced, seasonal fare.  I wasn't a fan of the understated decor tho—it was just so practical and functional! Poured concrete and sensible seating can really be a buzz kill sometimes, but all the better to showcase the lovely food, I suppose.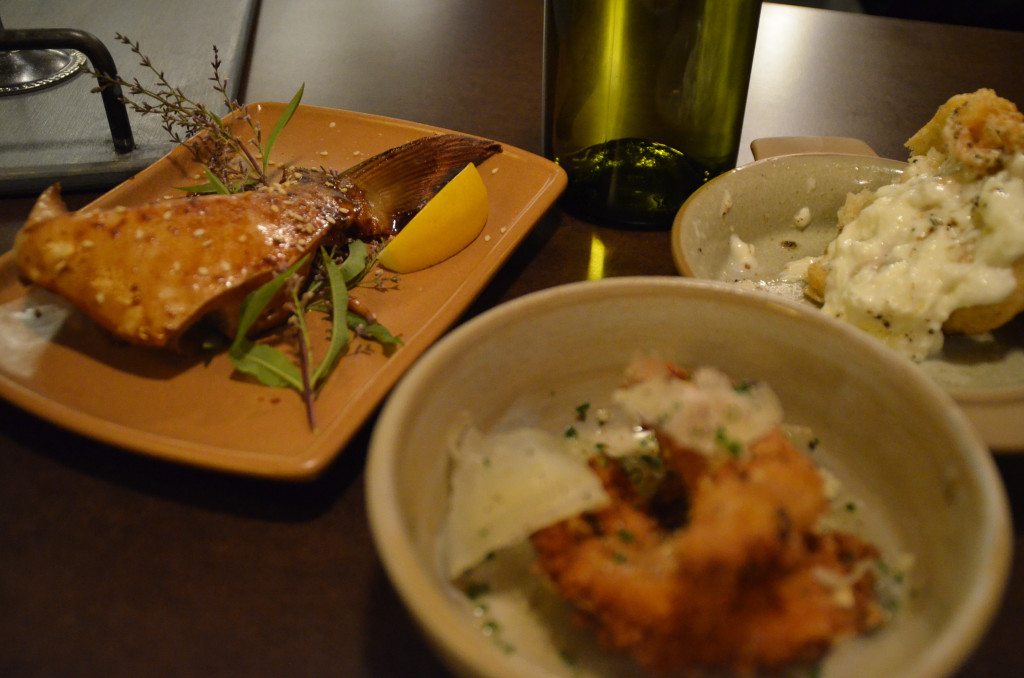 Feast your eyes on these photos of my meal in the gallery below—it was greedily consumed just hours before my flight back to the East Coast.  Although I didn't have to do so, dinner at State Bird Provisions is well worth the inevitable wait.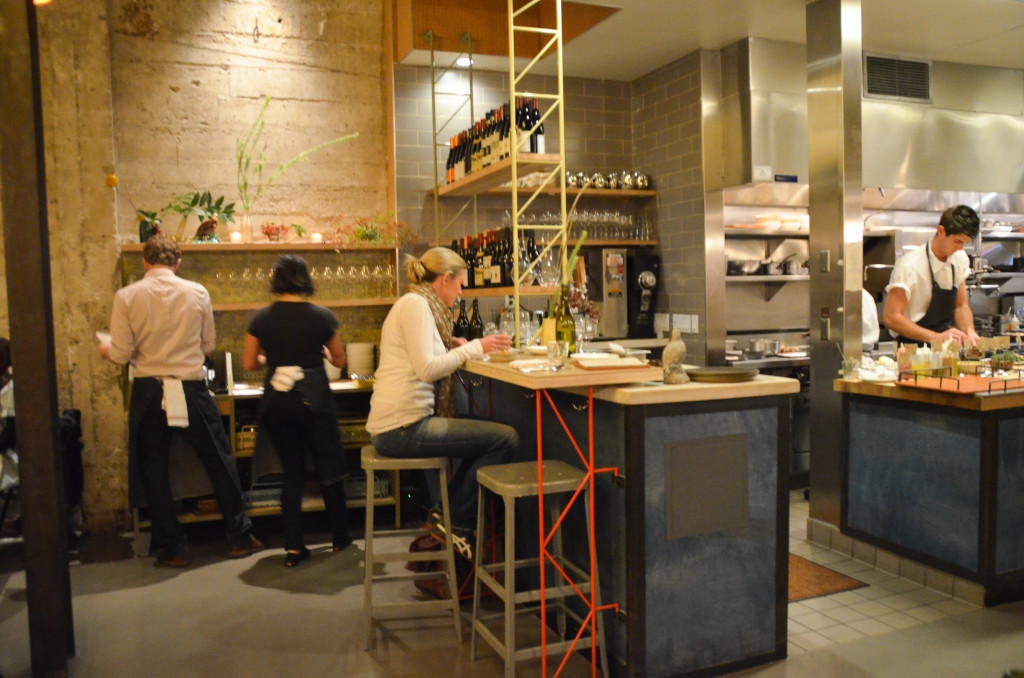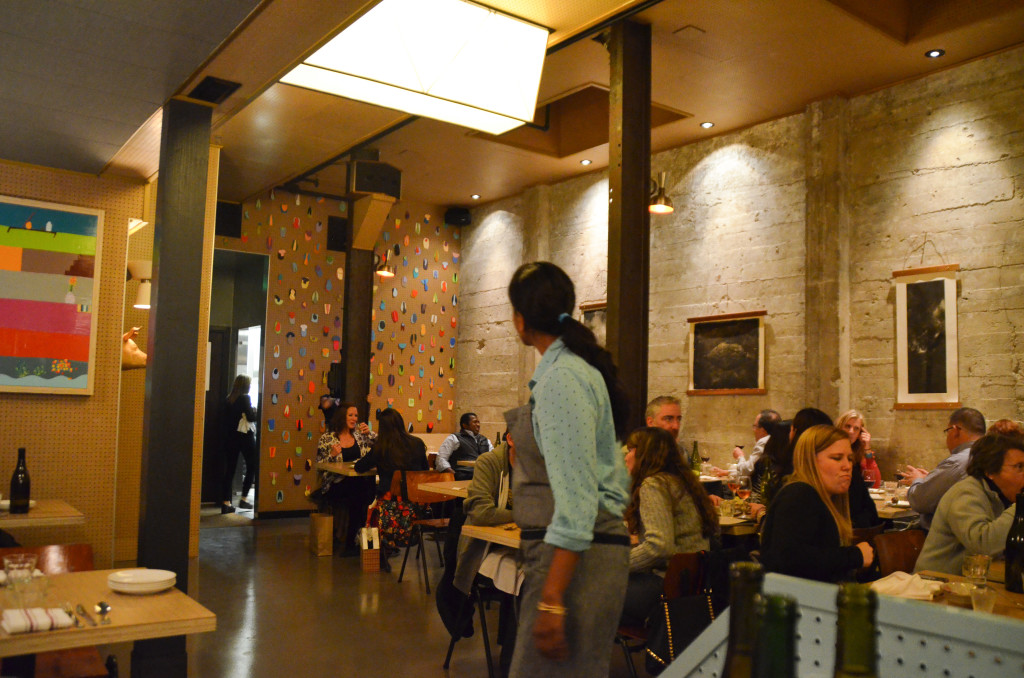 Have you dined at State Bird Provisions? Let us know what you think in the comments section below. Stay tuned for more recap of my time in Napa Valley, Marin County and environs.
Photos and article by Naki.