When I told people I was planning to go on my first holiday alone, the most popular response was: 'Pamela, that's so brave!', which sounded like a fantastic challenge to me.
Like the best of us, I often get a serious case of itchy feet. I need to know there's a trip around the corner to make my daily commute on the London Underground just a little more bearable. And although I've usually got a partner in crime to plan my random travels with, I've always hoped I'd be brave enough to go on a solo adventure.
And so it transpired that I decided to go to Provence on a whim. Flicking through Pinterest, wanderlusting as per usual, I came across an image of lavender fields in front of the Sénanque Abbey and it looked so serene, I decided I was going to experience it – alone.
There was just one problem: my French is pretty poor. I'd always relied on friends who spoke a slightly more convincing mix of Franglais on previous visits to France. And although I was only going for just over a week, and I had wanted time alone, the fear I'd feel lonely and unable to speak to anyone led me to pack lots into my trip to fill up my time – just in case. I planned to make this a real adventure: there would be lavender, wine and locals to meet, and I was going to see as much of Provence as I could.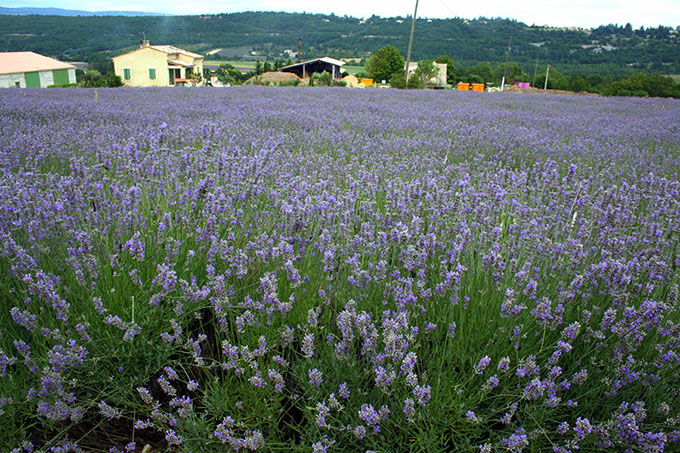 Lavender, Sault
Once I'd arrived and got to grips with finding my way around solo (unlike me, it's probably wise to recall the French words for "it's on your right" or "turn left" before you ask for directions), I realised I actually knew and understood more French than I'd given myself credit for. And I actually savoured time by myself.
I found my most precious tool was a good-sized novel – to busy myself when I felt awkward and to discourage unwanted attention (which proved to be a problem in Avignon). But generally I found the towns I visited in Provence safe and easy to navigate, particularly as I gave myself the safety net of a few organised tours to take care of some of the transportation for me.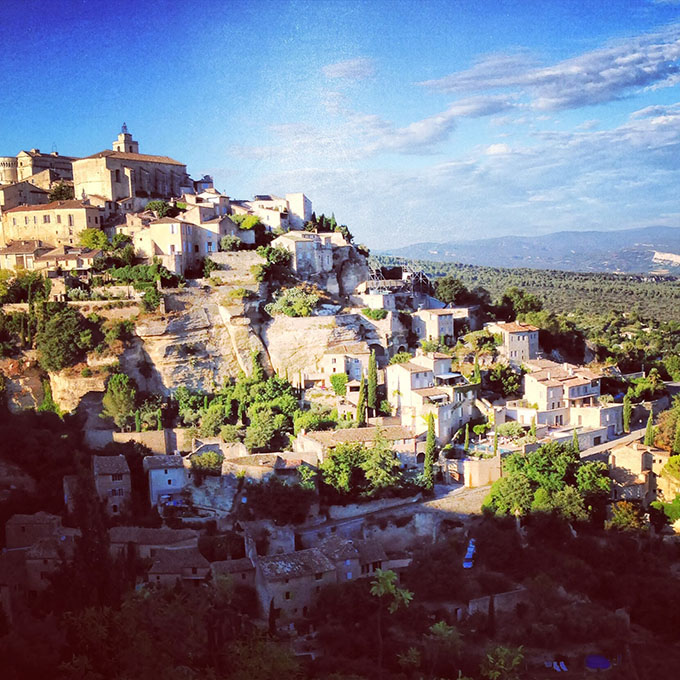 Gordes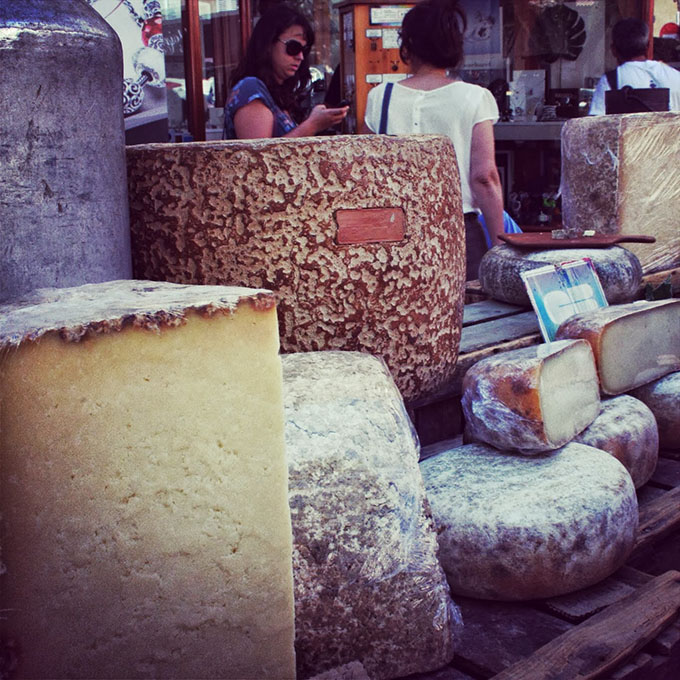 Cheese on sale at a Provençal market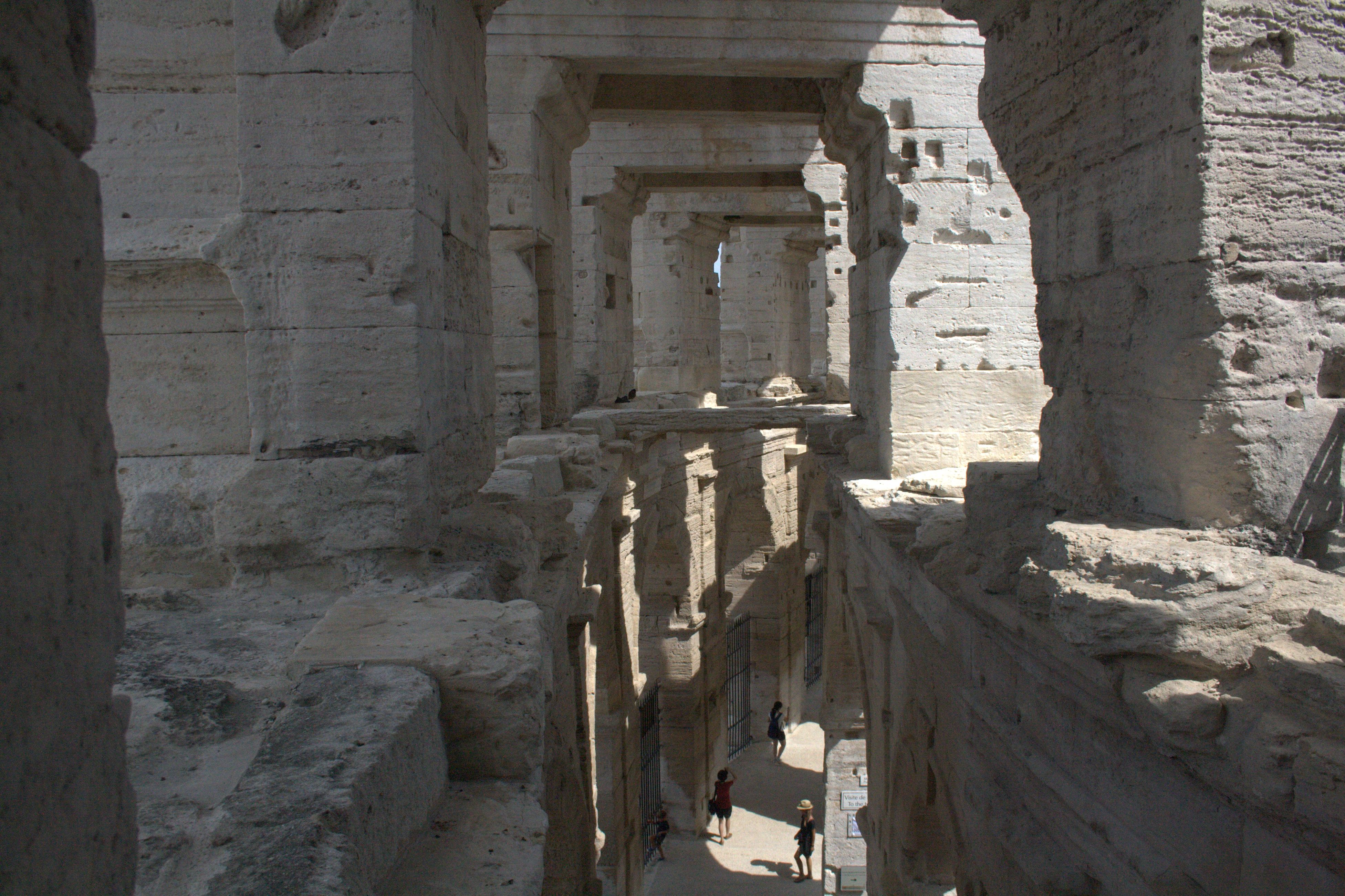 Amphitheatre, Arles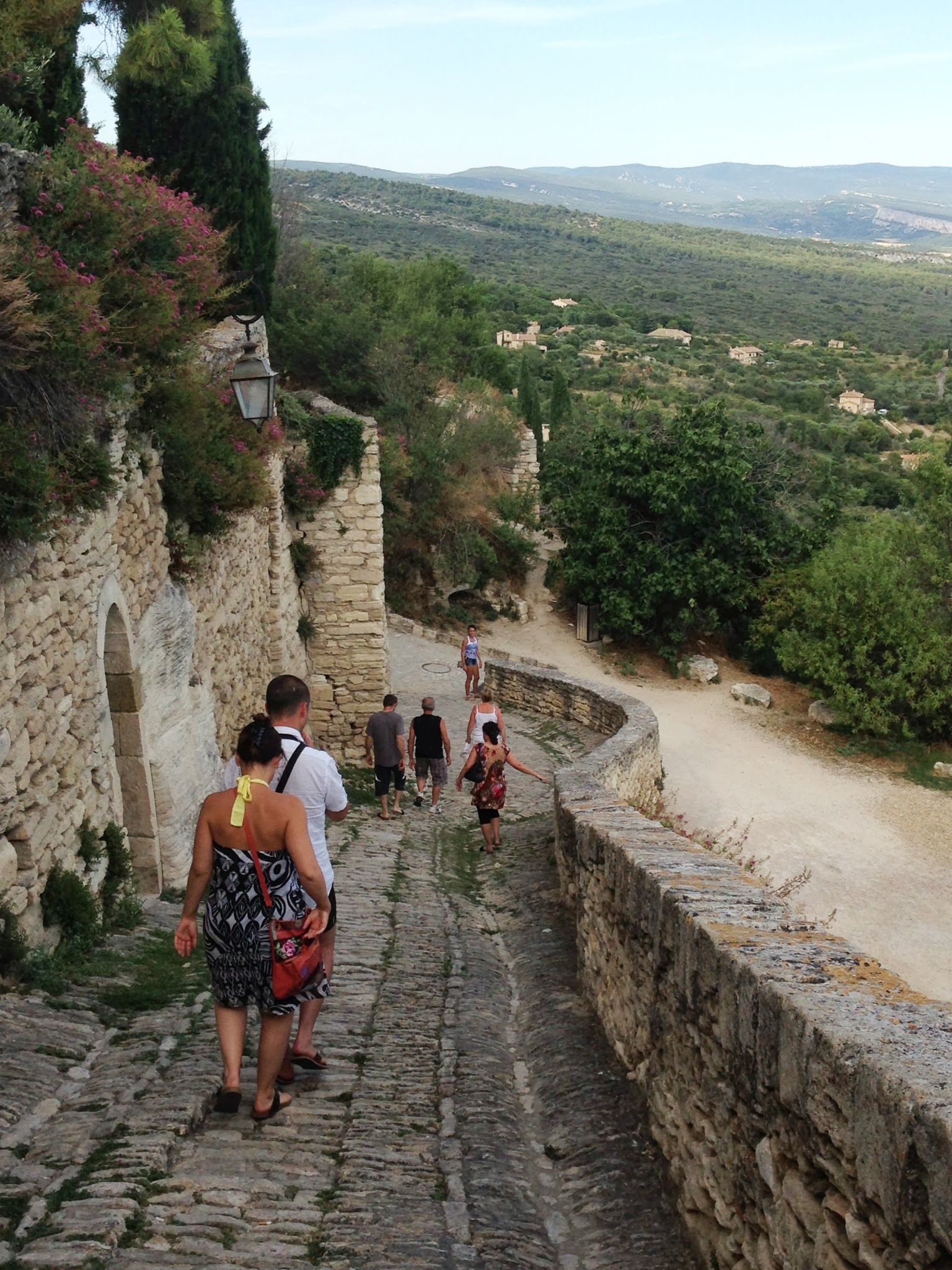 Narrow streets, Gordes
All in all, I went on two group day tours. I initially thought this would mean I would be forced to socialise; but I found that I could still explore on my own. I could sap up the sound of the cicadas and spot hummingbird moths feasting on the lavender at the Sénanque Abbey. I wandered through the fields and allowed myself to think it was all there for me.
And there was more to see than just lavender. Along the way, I walked across the Pont du Gard; admired the view in Gordes and Sault. I took in the ochre cliffs in Roussillon; shopped the Provençal markets in Saint Remy and enjoyed modern art and Roman relics in Arles. And one lovely day, I explored Avignon – Villeneuve les Avignon and the picturesque Sainte Andre Abbey – with a truly lovely retired Japanese couple who I'd assisted at a bus station (because I, yes me, knew more French than they did). I receive letters and emails from them both in Osaka to this day.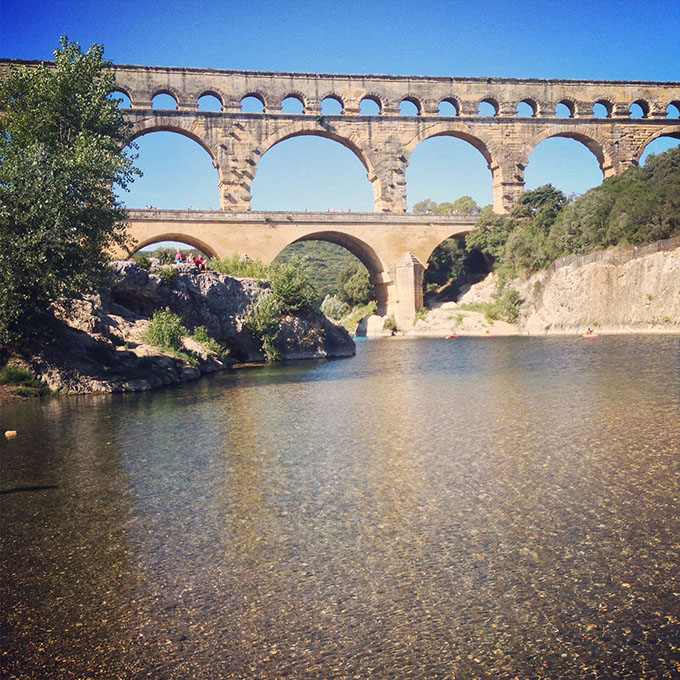 Pont du Gard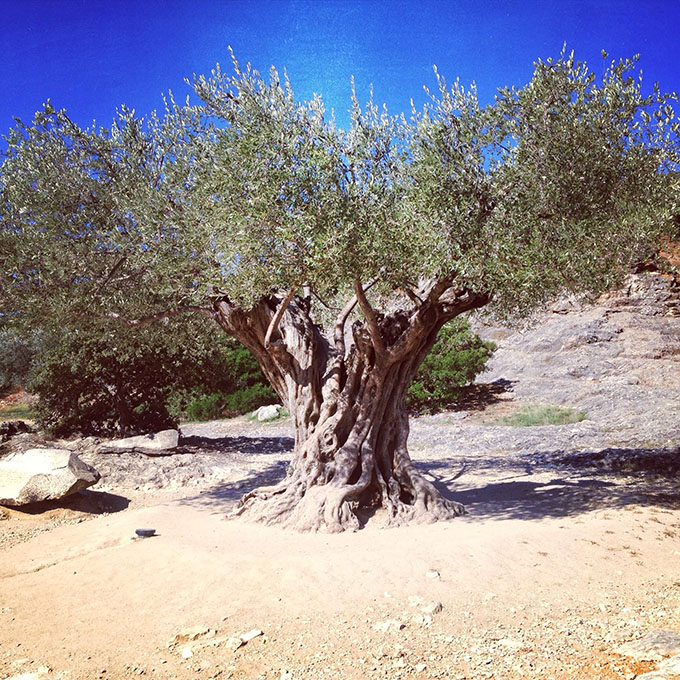 One of three 900 year old trees near the Pont du Gard

Did I feel lonely? Not at all. But then, as cheesy as it sounds, I had been searching for the quiet to 'get to know myself' (cringe). I had drunk with random locals and hung out with other explorers, though not as much as I thought I would. The hardest time was definitely at dinner. I realised I'd never eaten in a restaurant alone before. And while it can be romantic to get chatted up by French men, there is often a side order of sleaze that comes with being invited to join someone at their table. But dealing with that became part of the ride.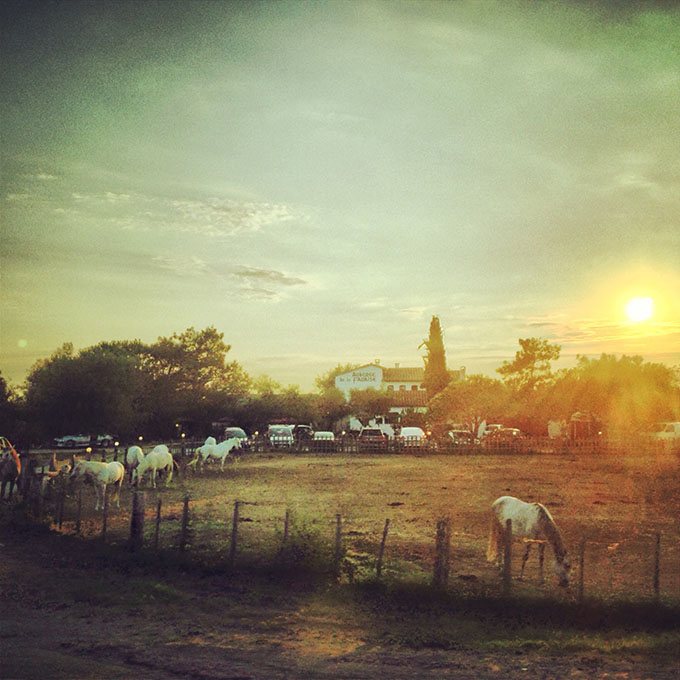 Sunset over the Camargue
My bravest moment? Hopping on a regional bus accompanied by a note written in French from my lovely concierge at L'hôtel de la Muette in Arles. Then being dropped off later in what felt like the middle of nowhere because someone mentioned I must try horse riding (for the first time) through the Camargue. Then, gripping onto the reigns as the marshland, flamingos and the (vicious) mosquitoes whizzed by – the instructor (who did not speak much English) had forgotten I was the only beginner and so had instructed the team of beautiful white horses to go for a gallop without warning me. But I think the real adventure was navigating the unknown with someone surprisingly more unfamiliar: myself.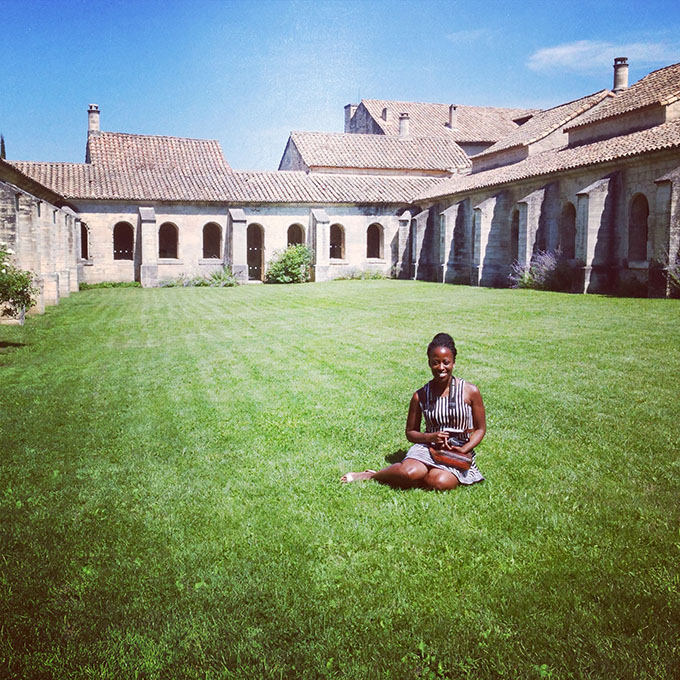 Chartreuse Notre-Dame du Val de Benediction, Avignon

And when things were quiet, I was actually forced to enjoy my own company. I accepted that what I'd done was pretty brave, but it really wasn't that difficult. Not once I'd plucked up the courage to go it alone.
I visited Saint Rémy de Provence, Gordes, Sault, Le Baux de Provence, Roussillon, Arles, and L'Ecurie Cavaliere at Carmargue at Saintes-Maries de la Mer. I travelled around Provence by train, from London to Paris and then to Avignon and onwards to Arles, in August. Eurostar offers great deals from London to Avignon during the summer. Booking local trains was pretty easy using voyages-sncf, and I booked my accommodation in Avignon well in advance. You really need a car if you want the freedom to explore smaller villages and lavender fields, but I liked the security of joining an organised tour and hopping on and off the great train network. I took the Provence in a Day Tour with Provence Panorama and a Lavender day tour with Provence Reservation. To see the best of the lavender fields, I'd recommend going in July as the harvest begins mid-late August.
View additional photos in the gallery below. Photos and article by Pamela.